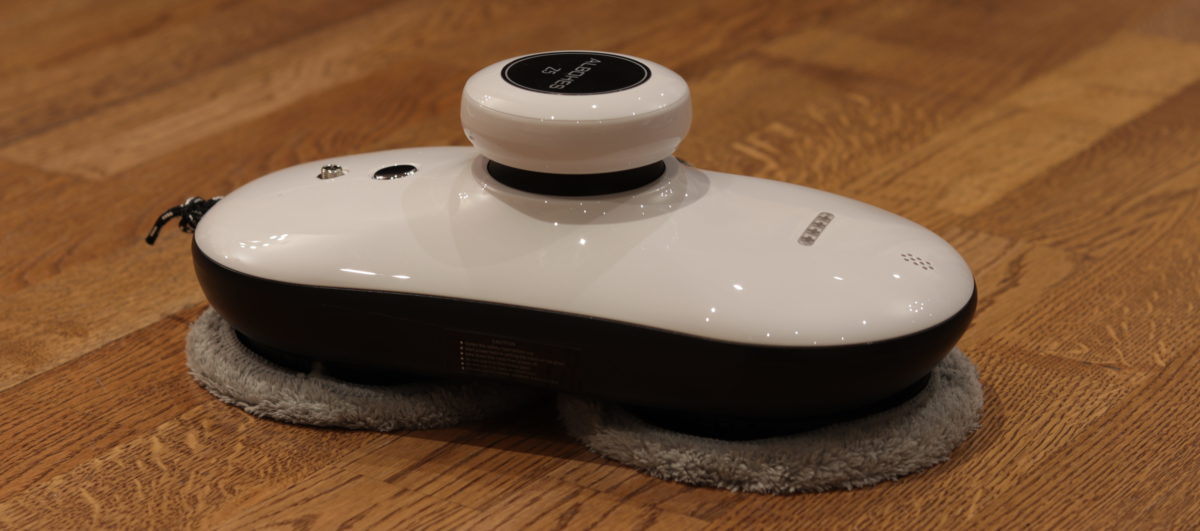 Albohes Z5 is a window cleaning robot for framed windows and other smooth surfaces like tiles, tables, and walls.
In this article you'll see us unpack, test, and review the Albohes Z5 window cleaner.
Keep reading to see how Albohes Z5 performed.
Why get a window cleaning robot
The purpose of the automatic surface cleaning robots is to replace the need to clean your windows manually or the need to pay for a window cleaner.
Some of the benefits of using a robot window cleaner vs doing it manually:
Frees up your time.
It is cheaper. If you've ever hired a person to clean your windows you know that it is not a cheap service. Depending on where you are in the world and the level of service, this bot can pay for itself in as little as one use, compared to hiring a cleaner.
Cleaning quality is usually better than an average professional cleaner.
Albohes Z5 key features and benefits
Cleaning speed of 4 minutes per square meter
4 automatic cleaning modes for cleaning entire window
Use Remote control or iOS/Android app to operate
Auto-finish feature stops cleaning when done
Embedded UPS keeps cleaning even when power plug is disconnected. Backup time is 30 minutes.
Table cleaning mode for cleaning of horizontal surfaces
What's included in the package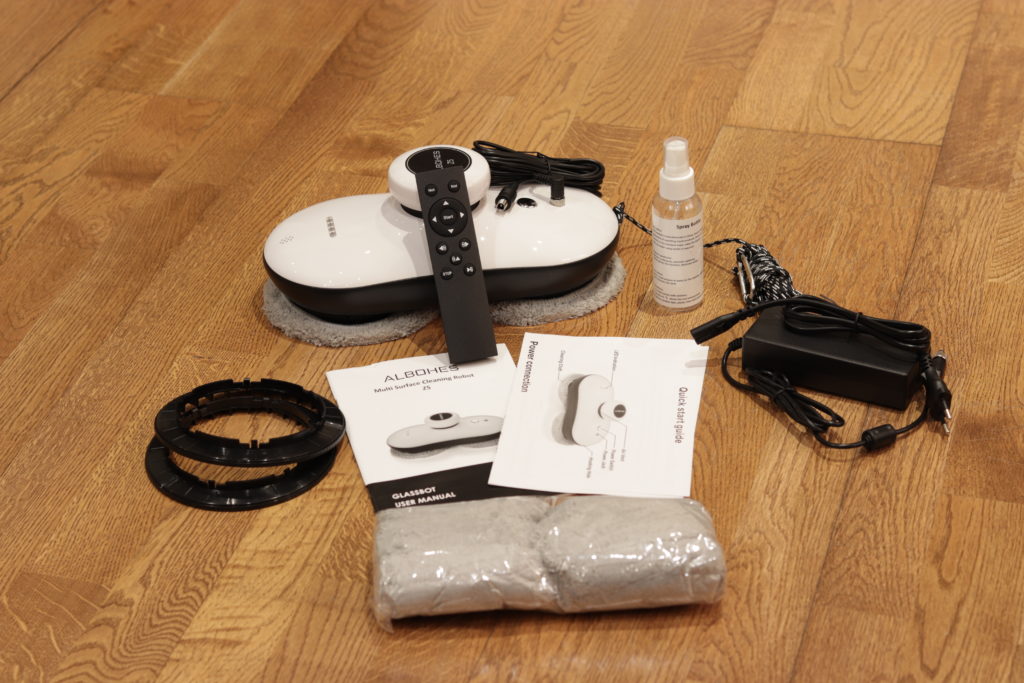 Albohes Z5 cleaner – 1pcs
Cleaning cloth x 12pcs
Remote control x 1pcs
Power adapter x 1pcs
AC power cord x 1pcs
DC power extension cable x 1pcs
User manual x 1pcs
Cleaning ring x 4pcs
Safety rope x 1pcs.
Albohes Z5 key product specifications
Charging time: 1 hour
Standby power: Li-ion battery, 600mAh, 14.8V
Input voltage: AC 110-240V
Net weight: 0.95 kg
Dimensions: 29 x 14 x 11.5 cm
Using Albohes Z5 for the first time
My Albohes Z5 arrived fully assembled and ready to use out-of-the-box.
When I turned it on I noticed a blue LED light went on and then it turned red. Red on indicates that the battery voltage is too low.
I'm sure I could have started using it right away with the power cable attached to it, but I decided to charge it first. I wanted to use it without the power cable attached. Even though in the manual it says to always connect the power cable for normal use.
Once you have your Z5 fully charged, the actual use is very simple, really.
This is step-by-step how you use a Z5 window cleaning robot:
Spray a bit of detergent on the cleaning cloth in the bottom of the cleaner.
Turn on the robot by holding down the power-switch for 2-3 seconds.
Put device on the glass. Make sure it's a few inches away from the frame of the window.
Press Start on the remote control
A few extra tips:
When turning on the device, make sure the fan starts running. It'll make a sound similar to a vacuum cleaner, only little less loud.
Make sure you attach the safety rope to something sturdy when operating at high altitude or you don't want to drop it.
Use the arrow buttons on the remote control to manually or automatically move the robot. There are 3 automatic programs:
move up then down,
move left then down,
move right then down.
What other buyers think of it

At the time of this writing Z5 has a 4.96 rating out of 5 stars at 30 customer reviews. As far as we've seen, there aren't many products with ratings as high as that.
We went through all the customer reviews and noticed a few things:
Some people say the instructions in the user manual are poorly written. I agree that the English grammar of the manual is poor but to me it was still easy to understand. And since the product itself is easy to use, I personally do not see a problem.
A few people report that the robot has problems cleaning the corners of the window.
In general, everybody is happy with the product. Even the people who didn't leave a 5-star review (lowest rating was 4 stars).
How it compares to other window cleaning robots
More information coming soon
About the Albohes brand
ALBOHES is a kitchen appliances, smart-home appliances and robotic gadgets manufacturer from Shenzhen, China.
Their Product range includes robotic vacuum cleaners, bread makers, portable coffee machines, electric pressure cookers, and smart sprinkler controllers, among other high-tech gadgets.
According to their website, all Albohes products come with a 12-month warranty, and they accept 30-day returns for any reason.
Where to get it
I got my Albohes Z5 from Gearbest.
Note: Gearbest has given our readers a special discount (22%) that you won't find anywhere else.
Click the green button below to apply the coupon and save 22% on your Albohes Z5 window cleaning robot.
$125.99 $161.15 is the price at the time of this writing.