If you have limited mobility, a mobility scooter can provide an affordable way to get out and about and protect your independence. In fact, there are 6.8 million American residents who use mobility aids on a daily basis.
However, there are hundreds of different types of mobility scooters to choose from. So making sure you buy the right one for your needs may seem daunting.
Fortunately, we have compiled a list of questions you should be asking before you purchase a scooter. This will help you to avoid making mistakes and get the perfect scooter for you. Read on to find out more.
Do You Need to Buy a Mobility Scooter?
The first question you need to ask yourself is why you think you need to buy a mobility scooter.
Motorized mobility scooters are used by people with a wide range of conditions, including:
Osteoporosis
Rheumatism and arthritis
Respiratory diseases such as emphysema
Multiple sclerosis
Spine or limb injuries
If you have mobility issues caused by one of these conditions, then you should consider a mobility scooter. However, it is worth checking with a medical professional first.
Some conditions will get worse over time. So, while a mobility scooter might be appropriate now, in a year's time it may no longer be suitable for your needs. If your disability worsens, it could be the case that an electric wheelchair is more suitable for your needs.
What Is Your Budget?
The next thing you need to think about before buying a mobility scooter is how you are going to pay for it.
You may be able to get Medicare coverage for 80% of the cost of the scooter. However, you will need to meet the following criteria:
Your health prevents you from moving around in your home easily.
You are unable to do activities such as bathing and dressing without assistance.
You are able to safely operate the scooter.
Both your doctor and the scooter supplier are enrolled with Medicare.
Your home is suitable for using a scooter.
If your doctor does not say that a scooter is necessary but you feel that it would still improve your quality of life, you can still purchase one. Some mobility scooter suppliers offer payment plans where you won't have to pay the full amount up front. But it is always worth checking what you can afford and do some shopping around first.
How Many Wheels?
Mobility scooters come in different configurations. Depending on how you intend to use your scooter, you can choose between a two, three or four-wheeled vehicle.
Two-wheeled models are quicker but less stable.
Three-wheeled scooters are lightweight and suitable for indoor and outdoor travel.
Four-wheeled models are heavier and more stable. They can travel across different terrain and surfaces.
If you are unsure which model will best suit your needs, ask your scooter supplier to talk you through the pros and cons of each one.
Will You Need Accessories?
Most scooters that you buy come as the basic model, with no extras. However, you may wish to consider which, if any, accessories you will need. Some popular accessories for mobility scooters include:
Basket
Extra battery
Cane/crutch holder
Ramp
Cup holder
Plastic rain cover
Any accessories you choose will increase the cost of the scooter. But if they are going to increase the quality of your life and make the scooter easier to use they will be worth it.
Where Will You Use Your Mobility Scooter?
How you intend to use your scooter will influence which one you choose to buy.
As we've already mentioned, scooters come in different models. So if you are planning on going off-road you should consider a more stable four-wheeled option.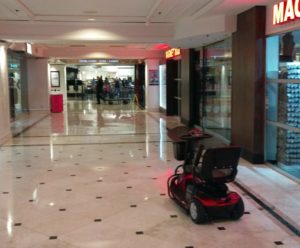 Another factor that you need to consider is whether you plan on traveling with your scooter. If you plan on transporting your scooter in your car, you will need to check that it will fit. You will also need a lift or a ramp to in order to position the scooter in your car.
If you need to buy a new vehicle in order to accommodate a scooter it will have ramifications for your budget. So always discuss this with the scooter supplier first.
Traveling on public transport or airplanes are additional factors you may need to consider. A lot of cities have accessible buses and public transport now, although it is a smart move to check before you travel.
Taking your scooter overseas can be a great way to boost your independence and have a more fulfilling vacation. But always check with the airline about what arrangements you need to make before you fly.
Try Before You Buy
Buying a mobility scooter could change your life. If you are struggling with your mobility it is probably limiting what you do and when you do it.
A scooter can give you the extra independence and confidence to get out and about and increase your quality of life. This is why it is so important that you get the right one.
It's unlikely that you would buy a shirt without trying it on, so don't invest in a scooter without trying it out first.
You may like the look of a particular model of scooter, and it might tick all your boxes. But if you try it out and it is not comfortable, or even causes you pain, it is the wrong model for you.
All reputable scooter suppliers will let you try scooters before buying. So always make sure you have sampled a few before taking the plunge.
Do Your Research With OnlyTopReviews
So there you have some of the questions you should be asking before you buy a mobility scooter. It's a big decision, and if you get it right it could change your life for the better. Which is why you should take your time and do your research.
But the good news is, here at OnlyTopReviews, we've taken a lot of the hard work out of it for you. We have compiled our review of the best mobility scooters to buy in 2019, to make your life easier.
Read all about it right here.