Last updated on January 29th, 2019
In this guide you'll learn:
What is the best cordless lawn mower (battery powered);
How battery powered mowers compare to other push lawn mowers
Battery powered lawn mower reviews and comparison
Key benefits of a battery powered lawn mower:
Cordless mower vs Gas mowers:
no need to change oil,
no spark plugs to change,
no gas filters to change,
zero emissions,
no gas to fuss with​ (17 million gallons of fuel is spilled every summer in the US regarding lawn care activities)​​,
very low noise,
you could save money in the long run.
Cordless mower vs Electric corded mowers:
greater mobility,
save time and hassle compared to messing around with extension cords,
no need to worry running over the cord.
Cordless mower vs Robotic lawn mowers:
Important features to consider when getting a battery-powered mower:
Runtime on a single charge (battery)
Cutting capacity (deck width and battery)
Do you want self-propelled or a push mower
Cut modes: side discharge, collecting, mulching capabilities.
About batteries
Greater Ah will allow you to use your battery for longer before it depletes. So for example, if 4.0Ah battery will give your mower about 45 minutes running time, then upgrading your battery to 5.0 Ah will add 10-minutes and 7.5 Ah would would nearly double the initial mowing time up to a total of 90 minutes.
2.0 Ah – up to 30 minutes
4.0 Ah – up to 45 minutes
5.0 Ah – up to 55 minutes
7.5 Ah – up to 90 minutes
Note that this will vary depending on the mower, grass thickness, outside temperature, age of the batteries, as well as some other circumstances.
Best cordless (battery-powered) lawn mowers
In the tables below you'll find the top rated and best selling cordless lawn mowers. These are the battery powered cordless mowers. If you're looking for a gas mower, have a look at this guide instead. We've included mower image, model name, deck width, battery voltage, the rating, and a link to customer reviews by previous mower purchasers.
The most powerful cordless mowers… 21″ cutting deck width and 80V battery
These mowers are the most suitable for larger residential yards and lawns that require most power to cut through that thick grass.
Because we cannot fit all the necessary information in the table, we've included more thorough reviews below. Please note that these are the same cordless lawn mowers as in the comparison table above.
Top 4 powerful cordless mower reviews
(that compete with gas-mower performance)
1. Ego Power+ LM2000 20″ Cordless Mower review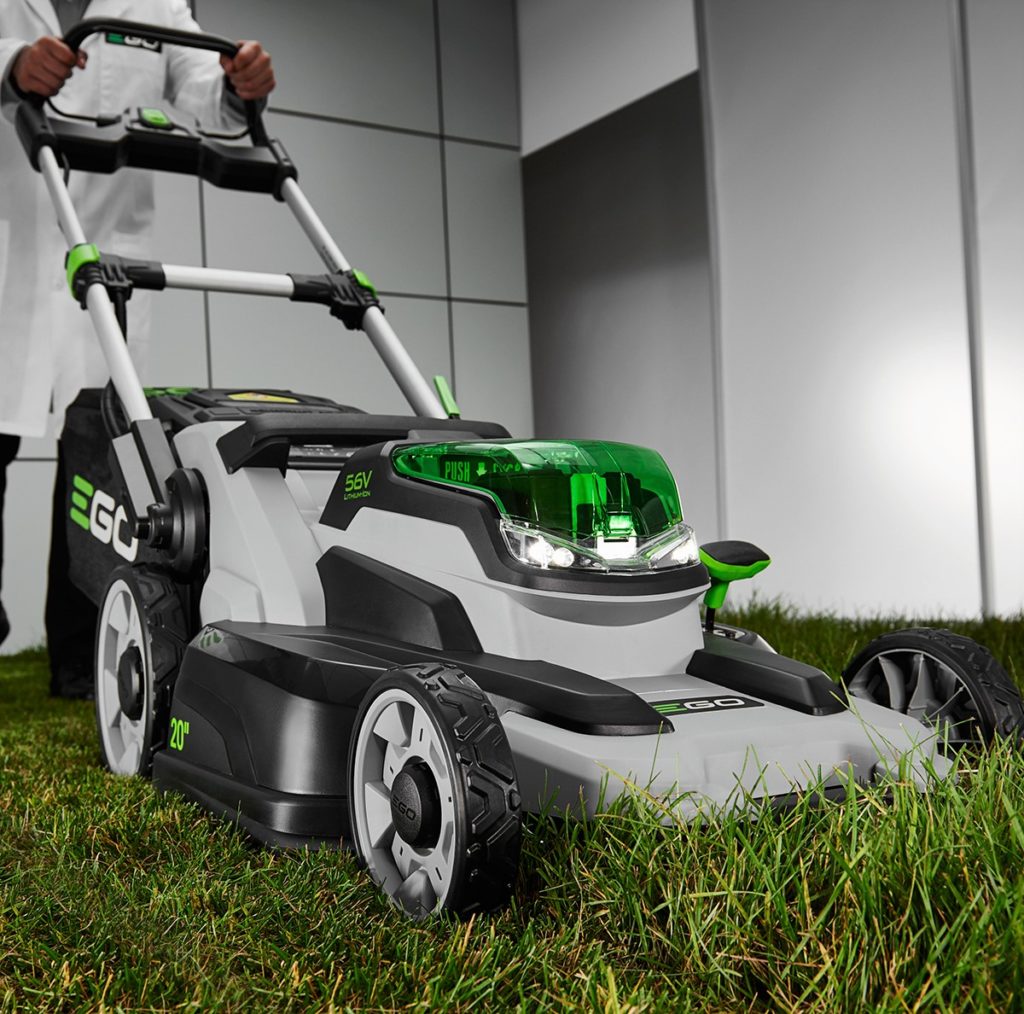 Mower price: $329.99
Buy EGO Power+ LM2000 20″ Cordless Mower Now
This is our #1 recommendation for people looking for a battery-powered mower that provides a gas mower performance.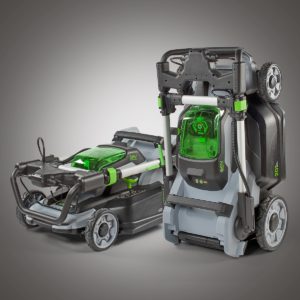 EGO Power+ LM2000 offers 3 mowing functions:
Side discharge
Rear bag collecting
Mulching.
Convenient push-button start will save you from the pull-cord hassle.
30% less noise compared to a gas mower. Also no gas smells, fumes and mess when dealing with it.
This EGO mower allows for 6-position deck height adjustment from a single lever. So changing the height is really comfortable and a matter of 1 second. No more messing around with 4 separate levers.
The deck is a 20″ durable steel mower deck.
Three battery kits available to choose from: 4.0Ah, 5.0Ah and 7.5Ah 56-Volt Lithium-Ion Battery Kits
What we like about EGO batteries is that they are fast-charging. Depending on the batteries you choose, it takes 30-60 minutes to recharge with the rapid charger.
Comes with a 5-year warranty for the mower and a 3-year warranty for battery kits.
Pros: Gas-mower performance, reliable, 3-in-1 tool, great warranty, excellent quality cuts
Cons: Charger makes some noise (you might want to avoid charging in the living room)
Bottom line: This is the #1 best cordless mower for replacing a gas mower. No doubts!
Buy EGO Power+ LM2000 20″ Cordless Mower Now
2. GreenWorks Pro GLM801601 21″ cordless lawn mower review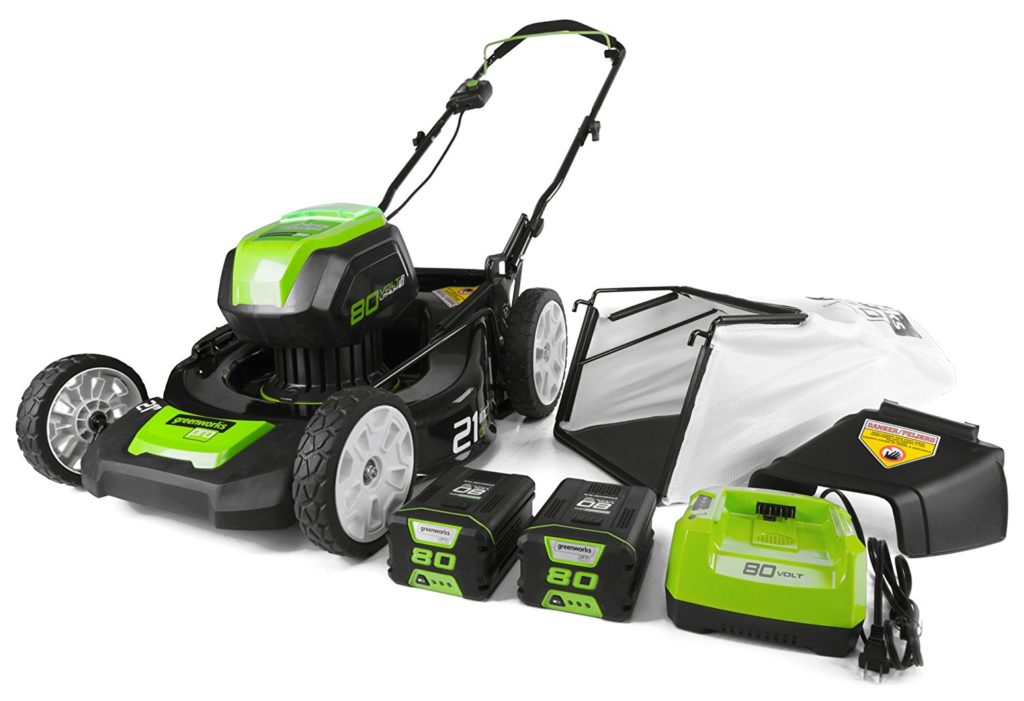 Mower price: $299.00
Buy GreenWorks Pro 80v 21″ Cordless Lawn Mower Now
This is another cordless 3-in-1 lawn mower kit capable of mulching, bag collecting and side discharge.
Greenworks Pro GLM801601 comes with a brushless motor that delivers equal power to a 160cc gas engine.
Features a good quality 21″ steel deck with 7 height adjustment settings.
Works with 80V Lithium Ion batteries.
You'll get about 35 minutes runtime with a fully charged 2Ah battery which is good for mowing about 1/4 acres. Extend the runtime to 60-70 minutes by choosing a 4Ah or 5Ah battery at checkout.
The ball bearing wheels and lightweight (62 lbs) construction make it easy to push and maneuver.
Greenworks offers 4-year limited warranty for this mower.
Pros: 3-in-1, powerful, good warranty
Cons: Some customers report problems with reliability
Bottom line: Good 21″ cordless mower, especially if you already have any of the Greenworks 80V line of products so you don't need to buy extra batteries for mowing.
Buy GreenWorks Pro 80v 21″ Cordless Lawn Mower Now
3. GreenWorks 2500402 21″ cordless mower review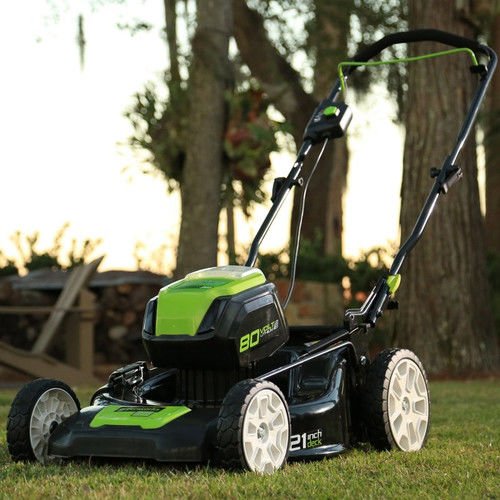 Mower price: $579.99 incl batteries
Buy GreenWorks 21″ Cordless Lawn Mower
Here are the main features of the 80V Greenworks 21″ cordless lawn mower (model 2500402):
Up to 35 minutes of mow-time with the 2.0Ah 80V battery (extend to 60 minutes with 5.0 Ah),
21-inch steel deck,
Professional-grade axles,
Ball bearing wheels for better maneuverability,
Push-button start,
3 cutting modes (mulching, backing, side discharge),
7 cutting height settings adjustable with a single lever,
Zero emissions and 16X less noise compared to typical gas mowers,
Brushless motors offer torque equivalent to a 160cc gas engine.
Buy GreenWorks 21″ Cordless Lawn Mower
4. EGO Power+ LM2102SP 21″ self-propelled cordless mower review
Mower price: $569.88
Buy EGO Power+ 21″ Cordless Self-propelled Mower Now
Although pricier than the other mowers listed here, this 21″ EGO Power+ cordless lawn mower comes with the self-propelling feature. Something very recently available to only gas mowers.
It's probably the best cordless mower we've come across thus far. Just take look at the video above for an unbiased review.
So the only question is can you afford it and do you want to spend the extra couple of hundred bucks for the self-propelled version. That is, of course, up to you.
Pros: Self-propelled, powerful, quiet, reliable, excellent cut
Cons: Costly
Bottom line: Awesome unit.
Buy EGO Power+ 21″ Cordless Self-propelled Mower Now
Best 20-inch (and 19″) cordless mowers
Quite many rather good tools to pick from here. Click on the mower image or name for more information. You can also click on the link in the Reviews column to read the numerous cordless lawn mower reviews that previous purchasers have left for the particular mower model.
Mower
Model
Deck Width
Battery
Price
Rating (Reviews)

#1 Bestseller


GreenWorks 25302 G-MAX 40V Twin Force 20-Inch Cordless Lawn Mower
20"
40V
287.80
4.2 (2604)

Top Rated


WORX WG788 19-Inch 36 Volt Cordless 3-In-1 Lawn Mower With Removable Battery & IntelliCut
19"
36V
393.41
5 (152)

Great Value


EGO Power+ 20-Inch 56-Volt Lithium-ion Cordless Lawn Mower - Battery and Charger Not Included
20"
56V
329.99
4.6 (526)
BLACK+DECKER CM2040 40V Lithium 3-in-1 Cordless Mower, 20"
20"
40V
339.99
4.7 (334)
GreenWorks MO40L410 G-MAX 40V 20-Inch Cordless 3-in-1 Lawn Mower with Smart Cut Technology, (1) 4Ah Battery and Charger included
20"
40V
342.48
4.7 (171)
Earthwise 60120 20-Inch 24-Volt Cordless Electric Lawn Mower
20"
24V
177.20
4.2 (405)

Rising Star


WORX WG772 56V Lithium-Ion 3-in-1 Cordless Mower with IntelliCut, 19-Inch, 2 Batteries and Charger Included
19"
56V
371.12
5 (66)
GreenWorks 2500502 G-MAX 40V 19-Inch Cordless Lawn Mower, (1) 4Ah (1) 2Ah Batteries and Charger Included
19"
40V
343.86
4.7 (95)
Battery-powered mowers for small lawns
In the table below you'll find the best rated cordless mowers with deck sizes 14-18 inches.