Last updated on January 1st, 2019
Why choose an electric smoker?
Easy to use: set it and forget it.
Cheap to maintain. Cheaper than charcoal or gas
Great for indoors and outdoors
Clean. No ashes and leftovers from burning
How does an electric smoker compare to other smokers (gas, charcoal, pellet, wood)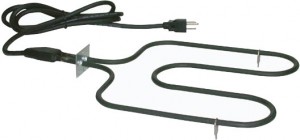 Electric smoker is different from all the other smokers because it doesn't use real fire for smoking. It uses the electrical element for heating. All the other smokers – gas, charcoal, wood and pellet smokers – use real fire for heating and generating smoke. Real fire needs more attention and temperature is harder to regulate.
It's easy to regulate and keep the temperature that you want with electric smoker.
Taste: Most flavor comes from wood smokers. Charcoal is very close to wood. Gas burns without flavor but adds some water vapor. Live fire generates more gases and liquids and therefore the smoke taste is usually stronger than with an electric smoker. That said, food smoked with an electric smoker is really tasty and I love it. I personally don't see that much of a difference in taste but I know some people who swear by wood smokers – they don't say that electric smokers are crap though, they just say that the food cooked in a wood smoker is even better.
There is no burning reaction with electric smoker so there are no leftovers like ashes which makes the electric smoker much easier to clean and use indoors.
You can prepare and make anything from traditional barbecue, brisket, pulled pork, turkey, vegetables to the preparation of modern dishes such as smoked cheese and fish.
What to consider when buying an electric smoker?
Temperature range and control. How low and high will the smoker allow you to go and how precisely can you set the temperature. Also, how accurately will the smoker hold temperature. Temperature fluctuation of a few degrees is normal but you don't want a smoker that fluctuates a lot in temperature swings. If a recipe says to smoke at 200 degrees it's better to do it at 200 and not 220. I'm sure you know what I mean.
Window. We already touched upon the temperature control and fluctuation in the previous point but let's come back to it for a second. If you want to see what's going on inside the smoker (is the meat already golden brown etc) without losing temperature then you should get a smoker model with a window in the front door. They are not that much more expensive and can make a big difference in the result of your smoking.
Remote control. Enjoying the drinks with friends and don't want to leave the fun? Change the temperature or turn the smoker on or off from 100 feet away with a handy remote control. Not all models have it so make sure you check the features before buying.
Capacity. This is self-explanatory but you'll want to consider how many people you're planning to impress with your smoker. Just small groups or big family reunions. Also, check out the number of racks the smoker comes with.
Chip loader. Good smokers allow you to add wooden chips from a side without a need to open the door.
According to my buddy Ted, the electric smoker guy, you'll also want to consider things like where you're going to put and keep your smoker. You might need an extension cord, and perhaps a cover, if you're planning to keep it outside, or on the patio.
Here is a list of 4 best electric smoker reviews in these categories: smokers under $200, under $300, best for cooking turkeys and other big meals.
Best Electric Smoker 2018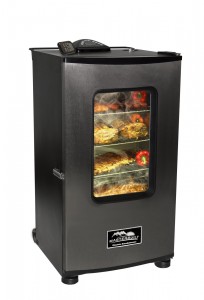 This electric smoker is the true definition of perfect beauty and functionality. Its features offer great convenience to the user and as a matter of fact, have landed this culinary device top of the list of the best smokers. With its large capacity of approximately 2 square feet and its remote control feature ensures that the user enjoys the whole smoking and grilling process. It features an easy-to-use control panel that comes in handy in case the remote is unavailable. It also comes with a removable water pan that is great for adding flavor to your barbecue and it also offers side loading wood chips that make the production of smoke easier and less cumbersome. Below are some of its incredible features.
Specifications
1. Dimension: 33 by 18.5 by 19.5 Inches.
2. Weight: 49.9 Pounds.
3. Features 4 Chrome-plated racks.
4. Electrically operated.
5. Power consumption: 800 Watts.
6. Allows side-loading wood chips.
7. Features a handle and rear wheels for ease of movement.
8. Features a removable drip pan and a top air damper.
9. Comes with an RF Remote Control.
10. Features a built-in thermostat and temperature probe for easier control of temperatures between 100 and 25 Degrees F hence more even cooking.
Pros
1. Easy to use.
2. Convenient.
3. Versatile.
4. Easily portable.
5. Large enough.
Cons
1. It is not advisable to use it indoors.
Best electric smoker under $200
It is close to norm that price corresponds to quality but this doesn't hold for the Smoke Hollow 30162E Electric Smoker. Going at much less than $200 with ironically superb features, it has become the most loved electric smoker under $200. Its 3 temperature settings, 3 cooking grids, side handles and its steel water pan make it convenient, effective and efficient. Below are some of its features, pros and cons that should be considered before making this investment. My friend Tim is a big fan of this smoker, read his full review here.
Specifications
1. Dimensions: 16 by 14 by 30 Inches.
2. Weight: 47.8 Pounds.
3. Features 3 Chrome-plated cooking grids.
4. Offers 3 temperature settings.
5. Comes with 2 side handles for easier transportation.
6. Features a wood-chip box for production of smoke.
7. Has a steel water pan with Porcelain-coating.
8. Features a magnetic door latching system.
Pros
1. Easy to use.
2. Versatile.
3. Large capacity.
Cons
1. Does not have wheels thus movement is limited to being lifted from one place to another.
Best electric smoker under $300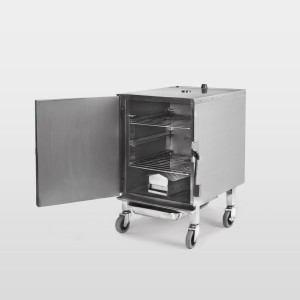 The Smokin-It Model #1 is a great smoker for anyone in need of convenience and great results. Its compact size and rubber casters make portability a cinch while its sturdy 201 Stainless Steel body is the reason to its durability. This appliance features a rheostat that controls temperatures from 100 to 240 Degrees F and a 400-Watts heating element that ensure that all your food is turned into a delicacy. Check out its features to have a feel of what this machine has to offer.
Specifications
1. Dimensions: 12.5 by 17.2 by 13.5 Inches.
2. Weight: 62 Pounds.
3. Chassis material: 18-Gauge 201 Stainless Steel.
4. Capacity of up to 22 Pounds per load.
5. Features 3-Inch diameter rubber casters for easier portability.
6. Features a 400-Watt heating element.
7. Comes with 2 removable cooking grids.
8. Features a smoke box and a sample of Hickory wood for first-time use.
9. It also has a drip pan which slides under the smoker.
10. Features a rheostat that controls temperatures between 100 and 250 Degrees F.
Pros
1. Easy to operate.
2. Its meals are delicious and soft.
3. Easily portable.
4. Compact.
Cons
1. Has only 2 cooking grids thus limitation in terms of the amount of food to be smoked at a time.
Best electric smoker for turkey smoking
Most electric smokers are made with red meat in mind. Unlike poultry, red meat is soft and does not require a lot of heat to cook thus can be smoked in basically any electric smoker. The Masterbuilt thought of this as a disadvantage to the smoking and grilling of poultry and came up with the Masterbuilt 20070512 40-Inch Front Controller Electric Smoker. Going at approximately $344.82, this culinary equipment has great features to offer its users. With an easy to use LED control panel, you are always at liberty to make any adjustment just to ensure a perfect outcome. You may also choose to smoke your food at the comfort of your seat; thanks to its Radio Frequency Remote Control. Have a look at the features that make it the best bargain for the dollar especially for Smoked Turkey lovers.
Specifications
1. Dimensions: 41.3 by 24.6 by 18.3 Inches.
2. Weight: 72.2 Pounds.
3. Capacity: 975 Square Inches.
4. Features a 1200 Watts heating element that has Full Foam insulation.
5. Comes with 4 Chrome-coated cooking racks.
6. Can be operated using the RF Remote Control.
7. Has a Blue LED display that makes it easier to make readings of temperature and time even in direct sunlight.
8. It comes with an internal light that makes using it in dark areas easier.
9. Features rear wheels and a handle for easier portability.
10. Also features a wood chip loading system with smoother operation.
11. Features a front-access drip pan.
Pros
1. Well insulated.
2. Large capacity.
3. Easy to use.
4. Easier setting and tracking of temperature via its digital thermometer.
5. Easily portable.
Cons
1. Short power cord that calls for direct plugging to an electricity socket.
After careful and thorough analysis and market research, the electric smokers reviewed above have been found to be the most reliable, resilient and productive smokers of this time. The wonderful features, ease of use and the convenience they offer have not only found these smokers a place in the hearts of culinary enthusiasts, but also into their yards and patios. These are definitely must-haves for any household.
Best portable electric smoker
$99.95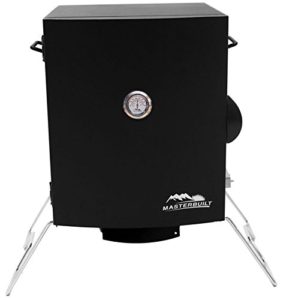 Buy Masterbuilt Portable Electric Smoker
This portable electric smoker is perfect for tailgating, camping, and road trips.
It's been designed with the portability in mind so it's nice and compact, has handles on both sides for easy lifting and moving around and the legs can be folded under when storing away or transporting the smoker in your car.
There's plenty of cooking space to smoke a whole turkey! Comes with two smoking racks so also plenty of space for stacks of ribs, brisket, fish, burgers and hot dogs.
The heating element is 1,400 Watts. It took about 20 minutes or so enough to heat up to 225 degrees and then it stayed for hours. All I had to do was add more wooden chips to the tray every few hours to keep the smoke nice and even.
There's an analog temperature control which easily allows you to set the temperature or change it to one of the 4 settings: high, low, medium and off. The temperature gauge is right on the front door so it's easy to check the temperature while the smoker is doing its job.
The smoking racks that are chrome-coated are pretty nice and make for an easier cleanup after the fun's been had. I do suggest you clean it up after every use though, I was too lazy to do it once and the grease didn't have a place to go and caught fire. Nearly ruined my brisket. So don't be lazy, clean it up before or after use and you'll be fine.
Comes with a removable wood chip tray and a water pan.
Note: Masterbuilt Portable Electric Smoker is meant for outdoor use only.
Buy Masterbuilt Portable Electric Smoker
Electric smokers comparison chart