Last updated on January 28th, 2019
(includes reviews and best chairs)
In this guide, you'll learn:
How your medical condition determines the features of your Power Wheelchair
How to pick a chair that meets your intended use (indoor/outdoor, traveling)
Different ways to fund your power wheelchair purchase (medicare, medicaid, etc)
There are several factors pertaining to the powered wheelchair that should be considered before potentially spending thousands of unreturnable dollars.
Let's start with the first factor that is inevitably the most important: funding. What financial routes are available to the customer in order to buy a powered wheelchair?
Note: Looking for a mobility scooter rather than a power wheelchair? Study our article about mobility scooters instead.
Your medical condition and how that will determine the features of your electric wheelchair
1. Musculoskeletal conditions: This includes a wide array of medical issues that negatively impact muscle tissue and the overall positioning of the body at rest: cerebral palsy, post-stroke, multiple sclerosis, ALS (amyotrophic lateral sclerosis), traumatic brain injury, Parkinson's disease, muscular dystrophy, Guillian-Barre syndrome, etc. Muscle weakness, atrophy, and hypertonicity will impact how each and every joint moves or freezes in place.
Look at the following scenario as an example:
Dorothy is a 46-year old female residing in a skilled nursing facility. She experienced a traumatic brain injury 4 months ago that has left her paralyzed from the neck down. Although she has regained almost full cognitive function and use of her hands, Dorothy is unable to move from her chest down which has resulted in serious atrophy at her hips, knees, and feet.
Skilled clinicians would be able to ascertain what type of seating system would benefit Dorothy. Persons who have limited trunk control and hip mobility would sit more comfortably in a tilt-in-space seat versus a captain seat.
2. Respiratory disorders: Persons with acute or chronic breathing problems may require the constant use of an oxygen tank. If that is the case, you might want to look at wheelchairs that can accommodate for a tank holder and cord. You could also look into lightweight, portable oxygen systems which save them money and energy on tank refills (e.g. this).
3. Spinal conditions: The resting position of the spine will determine the most appropriate back and head support. Such conditions include scoliosis, lordosis, kyphosis, spinal fusions, and herniated discs. Attempting to force an atypical spine into a standard captain seat could result in unnecessary pain and/or further deformity. Medical equipment specialists can provide details about various back supports (contour, custom mold, padding, etc.) available.
4. Skin disorders: This specifically pertains to pressure ulcers that are secondary to other conditions. For example, people with Type II diabetes are prone to skin breakdown which can result in non-healing wounds or ulcers. Movement disorders which force persons to remain in one position for too long can also result in non-healing or staged pressure ulcers that are fatal if left untreated. Individuals who are seated in powered wheelchairs for a prolonged period of time, and who do not have the capacity to pressure-relieve (lift themselves up with the assist of their arms) are at a high risk for skin breakdown (i.e. paralysis from the neck down). If this is the case, then the customer needs to seriously consider custom padding, tilt-in-space features, and specialized wheelchair cushions that can provide the relief for them.
5. Visual disorders: Acknowledgement of visual deficits is really an acknowledgement of safety concerns in operating a powered wheelchair. Users who can simply correct visual problems with glasses or contacts should be able to safely operate a powered wheelchair. Persons with more serious conditions including macular degeneration, cataracts, tunnel vision, hemianopsia, etc. should consult with an eye specialist and their primary physician to determine if they have the appropriate eyesight to operate a chair with a motor.
6. Cognitive disorders: This is similar to visual impairments in that the individual needs to recognize whether or not they have the cognitive capacity to operate a powered wheelchair. Cognitive disorders include dementia, post-stroke, traumatic brain injury, or any other type of condition that negatively impacts someone's safety awareness for themselves and for others around them. If the individual attempts to operate a powered wheelchair with a known cognitive condition, it could result in serious injury to themselves and to anyone that might get in their propulsion path.
Lastly, the customer needs to determine the type of environment(s) that the chair will be used in and how frequently the chair will need to be transported:
Indoor or outdoor use
Indoor use: Indoor residences can include private homes, nursing facilities, hospitals, and assistive living centers. Indoor surfaces include both private residences and public buildings/facilities (restaurants, doctor's offices, schools, churches, department stores, etc). Potential surfaces are generally predictable and smooth (i.e. carpet, tile, linoleum, cement, wood, etc). Aside from the surface of the floor, powered wheelchair users must also consider space between barriers. If the user is located in an assistive living situation in the U.S., then it is more than likely that their living quarters is accessible enough for a powered wheelchair. For private, older homes, the customer needs to consider the following spaces and measurements: porch size, steps, doorway widths, hallways, bathroom space, door thresholds, bedroom space, kitchen space, stationery and non-stationery furnishings, etc.
Persons that are buying a powered wheelchair for strictly indoor use can be flexible about the type of wheel placement their chair will have. For example, there are multiple Jazzy powered wheelchairs that come with mid-wheel technology that is specifically designed for indoor surfaces and for maneuvering around tight spaces as seen in a private home (e.g. manufacturers like this and this).
Outdoor use: Propelling a powered chair in the community allows tremendous independence and access, but comes with a high level of unpredictability. Surfaces include sidewalk cracks, grates, curbs, gutters, thresholds, ramps, grass, mud, and gravel. Weather changes like precipitation will drastically change those surfaces with puddles and ice, which can cause the powered wheelchair to lose traction. Customers who plan on using a chair for community use need to ensure that the chair they are interested in was designed for outdoor use. Any mid-wheel system with small castor wheels was NOT created for indoor use and will result in stalling the chair and/or injury to the user. Outdoor chairs must have larger castor wheels with a front-wheel system that can navigate variable terrain.
Transporting your wheelchair and traveling with it
Public transit use: Transit includes subways, buses, and taxis which are available depending on what country you reside in. For accessible transit systems, call the company ahead of time to inquire about wheelchair access. Today, most subway and bus systems have ramps and chair space available with lock-in systems that prevent the chair from rolling while in transit. Some companies have specialized vans that accommodate for powered wheelchair users who wish to remain seated in their wheelchair during the ride, but they often require a phone-call reservation. NOTE: In the United States, public transit and public facilities have to meet the bare minimum ADA guidelines (American Disabilities Act). They are not obligated to modify their measurements for persons who are bariatric or morbidly obese. This means that if the powered wheelchair is wider or heavier than ADA regulations, then public transit systems reserve the right to not allow the customer on to the bus, van, or subway.
Transport: With purchasing a wheelchair often comes spending money on transport equipment. Such equipment includes car lifts and ramps. If the customer can get away with a standard wheelchair frame with very few customizations, then a powered, foldable frame would be the cheapest option. The customer can simply collapse the frame down and throw it into the trunk of a car. For heavier, more unique chairs (tilt-in-space, bariatric chairs), customers will need to research wheelchair vans, interior lifts, exterior lifts, etc. Some individuals who are in a home-bound situation or reside in assistive living will potentially have access to transport vans already that can accommodate for full-sized powered chairs. In those cases, purchasing a ramp or lift may be unnecessary.
Best rated electric power wheelchairs 2018
How to use this table:Compare the features and determine what are the most important for you. Is it the range it can cover, weight of the scooter, the capacity? Does it need to be heavy duty or compact? Note that all these wheelchairs are foldable.
Also, we picked only the top 8 power chairs for this table and a lot didn't make the list so you can be assured that these are all high quality chairs with good feedback from their owners.
There's a more thorough overview and individual review of each chair below the comparison table.
Individual Power Wheelchair reviews
Note: These are the same wheelchairs as seen in the comparison table above. We suggest looking at the comparison table first to compare main features and then study the individual reviews of the chairs that you want to learn more about.
1. EZ Lite Cruiser Standard
Light Weight Folding Power Wheelchair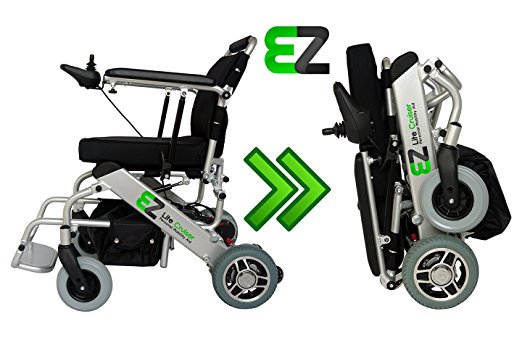 Although called "standard model", EZ Lite Cruiser Standardelectric wheelchair is anything but standard!
Now upgraded with high quality 250 Watt Brushless HUB motors, this powerful cruiser lasts up to 10 miles driving distance!Grey rubberised 8" rear wheels provide impressive traction, perfect for using both inside the home, out and about, and even suitable for taking on airplanes!
It's a bit of a lightweight, at just 50 of but don't let that fool you! Aluminium alloy is deceptively durable. Your EZ lite cruiser can easily handle up to 264 pounds!
If its durability doesn't surprise you, its flexibility certainly will! The EZ lite cruiser can be folded or unfolded in mere seconds. Its compact size makes it perfect to load in the boot, and a joy to store, especially if your place is tight on space!
Add a second battery for greater distances, mount a joy-stick on either arm-rest, or choose from the great range of accessories for extra customisation.
Pros: Simple set-up, transportable, easy to clean, excellent customer service.
Cons: Unsuitable for grass and gravel, wheels do wear over time.
Bottom line: Portable, lightweight and easily maintained. Perfect for using inside the home, shopping, or at outings and events
2.Drive Medical Cirrus Plus
Folding Power Wheelchair with Footrest and Batteries, Black, 18″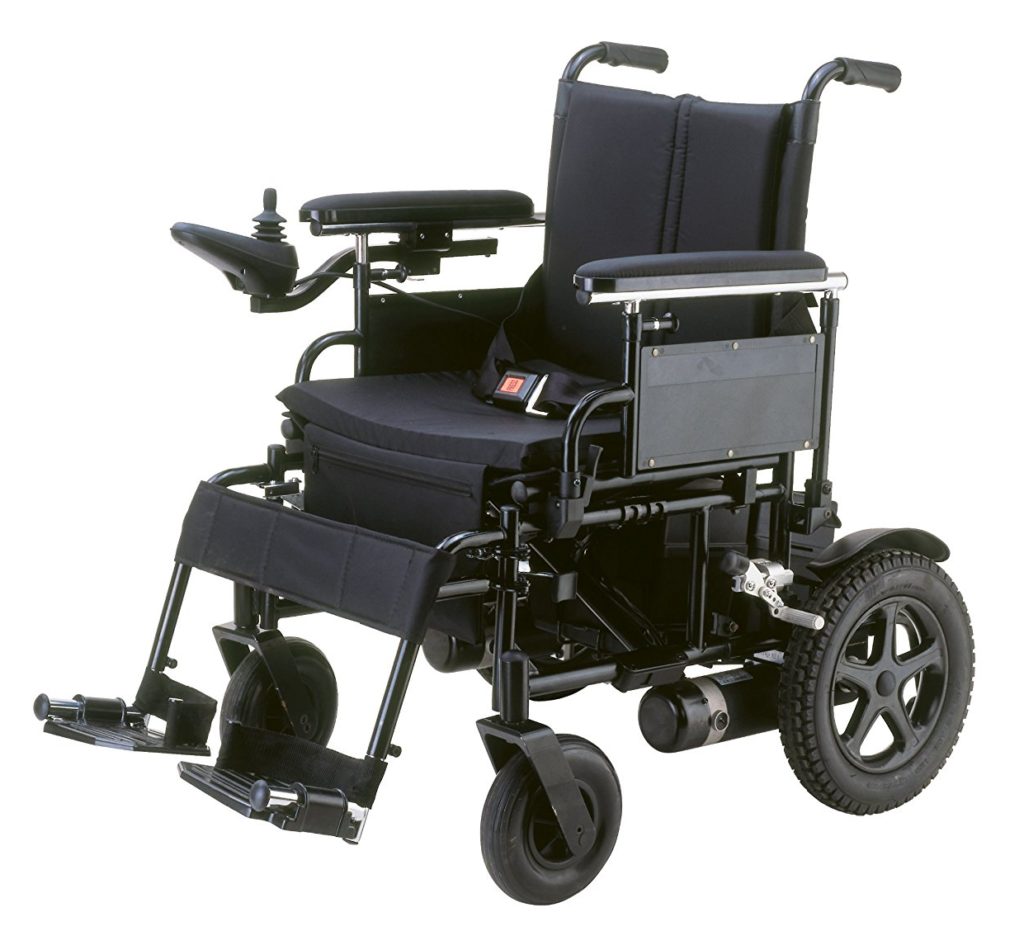 Gain the independence and freedom you've been looking for!
The Folding Cirrus Plus EC Power Chair by Drive Medical is foldable and lightweight making itideal for transporting.It's foldable and lightweight, and comes with a seat belt, seat cushion and pouch for easyportability and storage. The attractive carbon steel frame with silver vein finish is simple to cleanand maintain. Easily pack it in the trunk for days out!
Safety, comfort and convenience are at the forefront of this design. It features swing-away footrestswith calf straps and heel loops, non-marking wheel locks and a padded upholstery back rest withadjustable tension. The seat cushion is made of foam, which moulds to your body shape for extracomfort and support.
The joystick control, and anti-tip wheels offer excellent mobility, and versatility, making this ideal forusing both inside the home and out and about. This chair is even able to handle off road terrain,such as dirt, sand a bark trails, so you really can head off exploring!The integrated, programmable PG controller offers easy, freewheel operation, and the adjustablelength joystick mount, make it suitable for anyone of almost any size.
Surpasses the ANSI RESNA testing requirement.
Pros: Portable, convenient, comfortable
Cons: Batteries have to be removed before transporting
Bottom line: Foldable, lightweight and easy to transport. Perfect if you want the freedom to get out and about.
3.EZ Lite Cruiser Deluxe DX10
Personal Mobility Device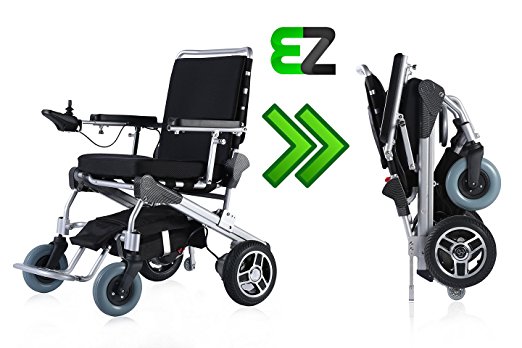 Get comfortable! This latest EZ lite Cruiser Deluxe DX10 model is specially designed to provideyou maximum comfort, and total back support with its 5 reclinable positions.
ONE second is literally all it takes to unfold your Deluxe DX10! Simply lift it up by the back support,and your DX10 Deluxe will do the rest for you. It's also quick and easy to fold back up, compact forstorage, and light enough to carry.
Four 7.5″ Diameter and 2″ Wide Caster Front Wheels, and 10″ Rear Wheels offer unbeatabletraction, greater stability and maneuverability. Perfect for using both inside the home and out andabout, whatever the terrain.
You'll have a 10 Ah (Ampere-hour) battery for 10+ miles in driving distance, or can choose to traveleven further with the 15 Ah battery, powering you for up to 18 miles! You can even add an optionalsecond battery to double your traveling distance with this electric wheelchair.
It features a removable seat with cover for easy cleaning, adjustable arm rests for easy access,and the option to mount a joy-stick on either arm-rest.
Pros: Sturdy, comfortable, simple to maneuver, excellent customer service
Cons: Can need repairs due to wear over time
Bottom line: If you're looking for comfort, this is the one for you! It's versatility makes it perfect forusing around the home or venturing out and about!
4. Foldawheel PW-1000XL
New 2017 Heavy Duty Model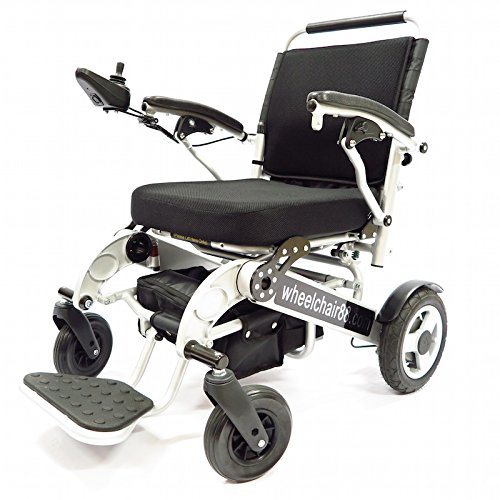 Love to travel?
The Foldawheel PW-1000XL makes a great choice if you're concerned with weight capacity. Iteasily holds up to 330lb, yet only weighs 57lbs, making it equally easy to transport!
Compact when folded, roomy when open, and quick to assemble. In fact, you can fold and openyour Foldawheel PW-1000XL in just 2 seconds flat!
It also comes with detachable joystick, a tough, secure travel bag, and worldwide usable chargerso it's ideal for traveling!
The high quality, study design feature brushless motors and bigger rear tyres, which are morepowerful, yet quieter, and come with 4 string suspension. These offer fantastic traction; able tohandle heavy grass, gravel roads, and even cobblestones!
The battery life is 9.3 miles and holds up to three batteries!
Pros: Heavy duty, lightweight, comfy
Cons: Could be too heavy just for indoor use
Bottom line: Compact, comfy, quiet, and quick. This one's a top pick for travellers!
5.EZ Lite Cruiser Deluxe DX 12
Gain the independence and freedom you've been looking for!
The EZ Lite Cruiser Deluxe DX 12 is a Redesigned Version of the Heavy Duty (HD) motorized wheelchair. This is theultimate cruiser if you're outdoors or like to travel!
Rugged 12" wide caster rear wheels make this the ultimate cruiser for outdoor use. It's lighterweight of 58 (w/o battery) or 64 pounds (with battery) means it's perfect to transport. It's alsocompact, making it great for storage!
In fact, just one second is literally all it takes to unfold your Deluxe DX12! Simply lift it up by theback support, and your DX12 Deluxe will do the rest for you!
With it's sturdy, cleverly designed frame, your lite redesign of the Heavy Duty Deluxe DX cancomfortably support up to 330lbs! Choose from your 5 reclining Back Support positions, for extracomfort! The removable seats make it easy to clean, and adjustable armrests allow you easieraccess!
Per charge, the Lithium Ion Battery included lasts for 10+ miles. Connect two batteries, and youhave a 20+ miles range!
Customisable options, and wide range of additional accessories also available.
Pros: Durable, manoeuvrable & comfortable
Cons: Heavier than some other models
Bottom line: This one's perfect if you love the outdoors, and want the freedom to movecomfortably on more rugged terrain.
6. KD Smart Chair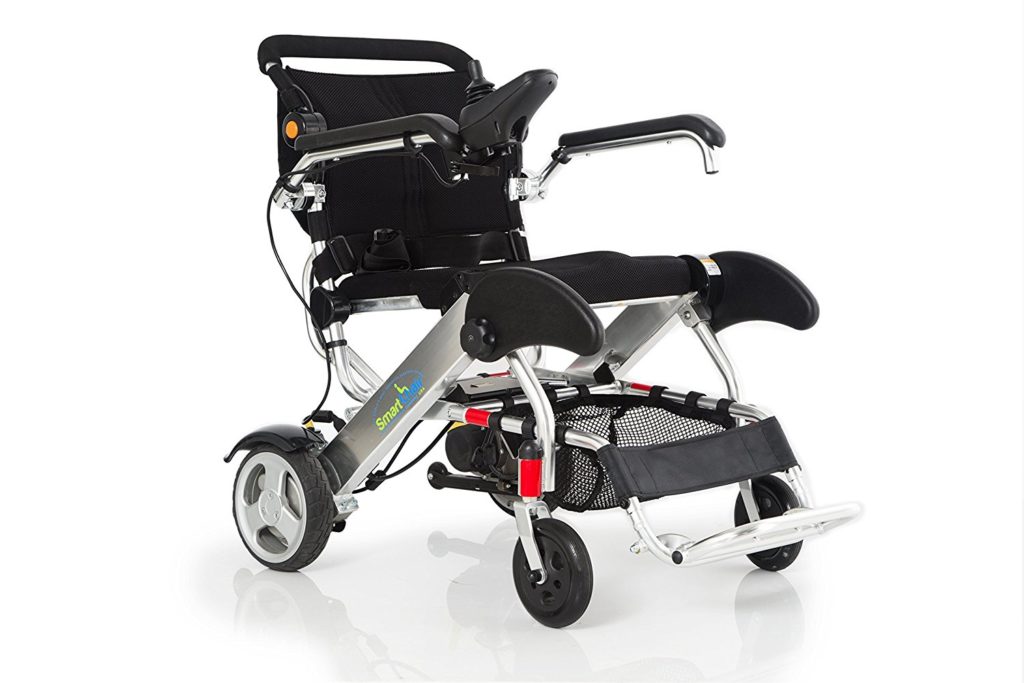 Smart Chair; smart choice!
Low maintenance, lightweight and lovable. This Smart chair is perfect for taking in cars, trucks,buses, trains, ships, or planes; there's no vehicle that can outsmart this smart chair!
This innovative chair offers true convenience and portability. It's impressively lightweight at just 50 pounds, and easy to fold for simple storage.
The remarkable turning radius provides manoeuverability. You'll have no problem getting through those tight doorways and hallways! It's also great for hills, reaching up to 12 degrees in slope.
The eco friendly, lithium ion phosphate battery last up to 9.3 miles per charge and can be recharged up to 500 times.
FDA 510K Cleared Medical Device.
Pros: Stylish, Lightweight, portable, great battery life
Cons: Best suited to flat terrain, unstable on ramps
Bottom line: This clever little Smart Chair is exactly what you need if you're after versatility, andneed something compact that can be transported easily on the go!
7. Foldawheel PW-999UL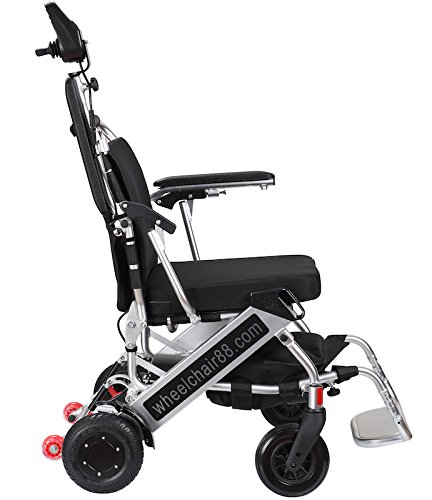 It doesn't get lighter than this! Weighing just 45lbs the PW-999UL is the World's most compact, lightest power chair yet!
Made of high grade aluminium alloy it's incredibly durable, and uses a high capacity "Polymer Li-on battery', the same as those used in Mac books. Battery life lasts up to 8 miles driving distance, or you can add an extra battery to increase this to 16 miles.
The brushless motors and sturdy, high quality rubber tyres provide better traction. Great for traveling up steep slopes!It also features an extendable footrest, for better ease when standing up, double-link joint armrests,and hydraulic anti-tilt support.
The seat cushion and backrest are detachable for easy cleaning.Comes with travel bag
Pros: Incredibly light, high capacity battery, easy to control
Cons: Un-lockable, fewer accessory options
Bottom line: Perfect for both inside the home and getting out and about. This lightweight powerchair, could take a weight off your mind.
Funding your power wheelchair purchase
Out-of-pocket purchase: If the customer has the money, and wishes to purchase a chair immediately, then they could make full payment on whatever product they wish. However, a quick purchase means forfeiting other financial routes that could save them money and potentially cutting research too short and settling for a chair that is not a good fit for them. Out-of-pocket purchases could be made at online stores as well as in person at local medical equipment shops.
Rental or loan agreements: Temporarily renting a powered wheelchair is a viable option for anyone who is struggling to obtain full funding for their own chair. Additionally, it is a convenient option for those who wish to get their own chair someday and want a demo opportunity to test out whether or not the chair is a good fit for them and their living situation. For example, a customer may choose to rent a wheelchair in order to see if the product will fit through their home doors, bathroom, kitchen, bedroom, porch, and so on.
Used equipment/Classified Ads: Local online and newspaper ads will occasionally have chairs for sale in the community as privately sold by the owner. One plus about going this route is that the chair will be infinitely cheaper than buying it brand new. Possible down-sides include buying a used chair, a chair that is broken, and/or a chair that is missing parts. Any defects on the product would be the customer's responsibility to fix since the owner would have no obligation to make the repairs unless they find it worth their while.
Insurance coverage: Lastly, customers could pursue the health insurance route. If they have a current insurance policy, the customer could gain partial to full coverage on a powered wheelchair if they are willing to wait up to several months.
In order to avoid any confusion, we will be strictly addressing insurance coverage as it pertains to United States federal and private policies as of 2016. According to Medicare and Medicaid guidelines, federal insurance is obligated to cover one or the other every 5 years: a walker or a wheelchair which includes either a manual or a powered chair (with very VERY few exceptions).
Medicare has two distinctions: the "Original Medicare" which is standard Medicare and the "Medicare Advantage Plan" which takes the form of HMOs or PPOs (such as getting a Medicare policy through Select Health or Humana). Original Medicare has its own set of policies as far as wheelchair coverage and Medicare Advantage Plans can be drastically different about coverage opportunities depending on which insurance company it originates from. Medicare Part A (original Medicare) does not cover powered wheelchairs. Thus, persons covered by Medicare should obtain a Medicare B supplement which does partially cover chairs and other durable medical equipment (DME). Individuals obtaining coverage should expect to pay for at least 20% of the full price for the powered wheelchair. Read here for more information on how to get Medicare to pay for your wheelchair.
Medicaid rules vary state to state, but in general provide some type of coverage for powered wheelchairs. The difference is that the equipment needs to be deemed medically necessary by a primary physician for HOME USE ONLY (private residence, assistance living, nursing homes, etc.) Persons looking for powered wheelchairs for outdoor or community use will be denied coverage.
Private policies through insurance companies (Blue Cross Blue Shield, Humana, Select Health, Aetna, etc.) have specific rules per policy regarding powered wheelchair coverage. Policy holders that are approved for coverage should still expect to pay a small portion of the full price.
Regardless of whether coverage comes from Medicare, Medicaid, or a private policy, you must start the process by obtaining a doctor's order (signed and dated) for a powered wheelchair. That order is then taken to a medical equipment provider company that accepts the customer's insurance. An assessment for chair parts and body positioning is conducted by a tech specialist and a rehabilitation specialist (usually a physical or an occupational therapist). The assessment is then submitted to insurance for approval, which can take time. Once funding is approved, then the medical equipment company can construct and deliver the chair.