Last updated on January 1st, 2019
In this article we cover:
How gas lawn mowers differ from other walk-behind mowers
Some of the Gas Lawn Mower benefits over Electric Mowers are:
cut through thick grass with ease,
no extension cords to annoy you and limit mobility,
mow larger areas in one go,
no need to wait for battery charging,
cheaper than battery mowers.
Walk-behind mowers, both push and self-propelled, are best suitable for yards up to 1 acre in size. Of course, this also largely depends on how much time you want to spend on mowing.
If you'd rather not spend any time mowing, and you have a small to medium size yard, then I suggest you take a look at the robotic lawn mowers.
If you have a relatively large yard and you'd rather drive than walk, then consider getting a riding lawn mower or a zero turn mower instead.
Best Self-Propelled Gas Mowers
Self-propelled mowers move on their own, meaning you don't need to apply any force to make the mower move forward. You engage the self-propulsion by squeezing a bar on the mower's handle. Most, if not all self-propelled gas mowers come with variable speed setting. That means you can control the speed at which the mower propels forward. It's great because you want to slow down as you maneuver around obstacles and corners. You'll also be able to speed up and through the flat and easy parts of your lawn.
In the table below you'll find the top self-propelled mowers available on the market as of today (summer of 2017). We've tried to include as much useful information in the comparison table as possible without the clutter. However, should you need more information, you can find individual, thorough self-propelled gas mower reviews below the comparison table.
Self-propelled gas mower reviews
Please note that the mowers reviewed below are about the same tools as shown in the comparison table above.
1. Honda HRX217K5VKA 21″ self-propelled gas mower review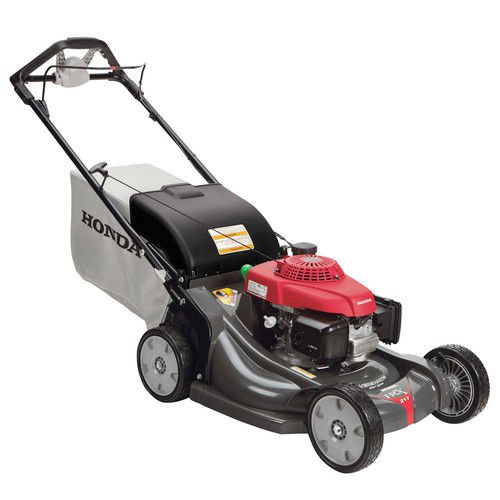 Price: $649.99
Buy Honda HRX217VKA 21″ Self-Propelled Mower Now
Yard size: 1/2 – 1 acre
This is our #1 favorite self-propelled gas mower. It offers great reliability and we'll be taking a closer look at some of the most important features this 21″ mower has to offer.
The Honda HRX217VKA features what they call a 4-in-1 Versamow system – meaning the mower is capable of mulching, bag collecting, discharge and leaf shredding. You can also combine mulching and bagging for smaller clippings and less frequent emptying. The mower comes with a collector bag included, and it's a large one – 2.5 bushels.
Powerful Honda GCV190 engine is easy-starting and rather fuel efficient. Mine starts with one pull every time. Honda engines are legendary for its long life and reliable service. All Honda mower engines are certified to meet 50-state EPA and CARB emission levels.
The mower offers Variable speed from 0 to 4 mph. Just turn the speed dial to match with your stride. I like to slow down in areas that need more maneuvering and speed up when it's flat.
The 21-inch cutting deck is made of NeXite and comes with a lifetime warranty. NeXite is a high-impact material than doesn't corrode, rust or dent.
Choose from 7 height settings (.75″ t0 4″) and adjust the height with ease.
The Honda microcut twin blades offer 4 cutting surfaces and ultra fine clippings, meaning more clippings per bag, less time emptying the bag, and an excellent cut with less work.
If I'd have to find a downside, then it is the price point – it's a bit more costly than the average self-propelled mower.
Perhaps the most convincing factor is the 5-year warranty that Honda offers for this mower. No other mower manufacturer will give you that peace of mind. Other mowers come with 1-3 year limited warranty.
In conclusion the Honda 21″ mower is a beast. If you want the best in quality and reliability and don't mind spending a few extra dollars then I see no reason to hesitate. There is no other mower that comes close to having so many good reviews and happy customers.
Buy Honda HRX217VKA 21″ Self-Propelled Mower Now
2. Lawn-Boy 17732 Self-Propelled Gas Mower Review
Price: $279.00
Buy Lawn-Boy 17732 Self-Propelled Mower
Yard size: 1/4 – 1/2 acres
The Lawn-Boy 17732 is the most popular and best-selling self-propelled mower in the US.
It's cheap, less than half the price of the Honda, yet offers some nice features and pretty good warranty.
The Lawn-Boy is powered by a 149cc Kohler XTX OHV Engine and a rear wheel drive system. No oil-change is necessary with this engine. Just top it up when needed. It comes with oil included.
Lawn-Boy 17732 is low on emission and CARB compliant for California.
The 21-inch all-steel deck offers convenient two-point height adjustment from one side of the mower.
Lawn-Boy weighs only 66 pounds so it's easy to handle. The 7-inch front wheels and 8-inch rear wheels offer good maneuverability.
Foldable handle. No tools required for adjustments.
The warranty is not too bad either. Lawn-Boy mowers come with a 3-year tru-start warranty meaning that your mower will start with 1 or 2 pulls or they will fix it for free. In addition, there's a 2-year for mower and parts.
Bottom line: Meant for residential use. Best for homeowners looking for 3-in-1 discharge gas mower with self-propulsion that is budget-friendly.
Buy Lawn-Boy 17732 Self-Propelled Mower
3. Honda HRR216K9VKA Self-Propelled Gas Mower Review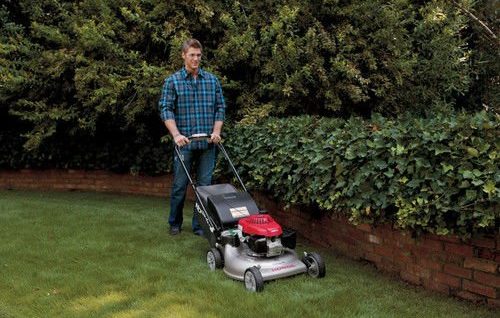 Price: $479.98
Buy Honda HRR216K9VKA Self-Propelled Mower
Yard size: 1/4 – 1/2 acres
Honda HRR216K9VKA is a self-propelled, rear wheel drive gas lawn mower with pull start.
Comes fully equipped with the 3-in-1 system and a clip director. No tools or costly attachments needed – simply slide the clip director knob to mulch, bag or discharge. The collector bag in included.
Easy-starting Honda GCV160 engine – Honda engines are legendary for providing years of reliable service. They're also fuel efficient and low on carbon emission. This Honda mower is CARB compliant for the state of CA.
The 8″ rear and front wheels are made of hard rubber and offer great traction, yet are good for maneuverability.
The cutting deck is 21″ wide and made of 16-gauge steel and offers cutting heights of 1.8″ to 4″.
Weighs 84 lbs.
Comes with a 3-year warranty for residential use.
Buy Honda HRR216K9VKA Self-Propelled Mower
Best Push Gas Lawn Mowers
Push gas lawn mowers – the traditional, most common type of mower in America. The standard deck width is 21″ but you'll find a couple of 20-inch models, as well as few 22-inch ones featured in here.
Push Gas Lawn Mower Reviews
1. Lawn-Boy 10730 21″ Push Gas Lawn Mower Review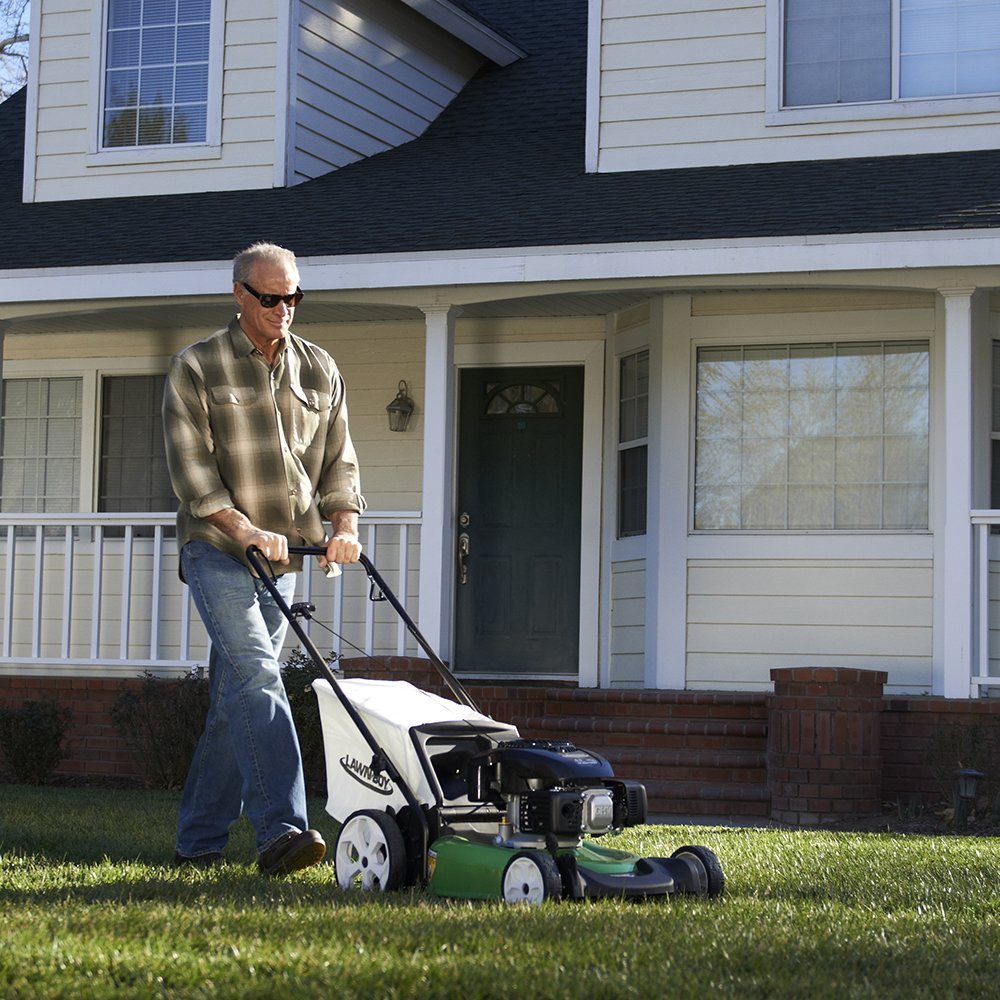 Price: $316.29
Buy 21″ Lawn-Boy 10730 Push Gas Mower
Yard size: 1/4 – 1/2 acres
This Lawnboy mower allows for 3 discharge options: mulching, bagging and side discharge. The bag is included and it's a large one, measuring 2 bushels so you don't need to empty it that often. Mulching is great too because of the tri-cut blades.
Engine is a 4-cycle from Kohler and does not need oil replacement. All you need to do is check there's enough oil and top it as needed.
Adjust the cutting height from one side of the mower using the two-point cutting height adjustment. The cutting deck is made of steel and offers standard cutting width of 21 inches and 6 height settings from 1.25″ to 3.75″.
This model comes with high 11″ rear wheels. Big wheels allow for easier maneuverability, especially on uneven terrain, and it's easier to push the mower.
What we love perhaps the most about Lawn-Boy is the peace of mind they offer through their reliable warranty program. Their 3-year Tru-Start warranty states: "Your Lawn-Boy will start on one or two pulls for three years or we'll fix it for free!" In addition to starting they offer a 2-year full coverage warranty for the mower and its parts.
Lawn-Boy 10730 Gas Lawn Mower Specs:
Cutting options: 3-in-1 Ready (Mulch, Bag, Side-Discharge), Side-Discharge Optional, No Tools Required
Bagger Capacity: 2 Bushels
Engine Displacement: 149cc
Engine: 6.5 ft.-lbs. Gross Torque Kohler® XTX OHV*
Cutting System: Tri-Cut
Starter: Recoil
Bagging System: Standard
Self-Propel System: Push
Cutting Width: 21″ (53 cm)
Deck Material: Steel
Height of Cut: 6 Position 1.25" – 3.75" (3.1 cm – 9.5 cm)
Handle: Adjustable, Two-Position
Height of Cut Adjustment: 2-Point
Wheel Height: 7″ (17.75 cm) Front / 11″ (28 cm) Rear
Weight: 62 lbs (28 kg)
Buy 21″ Lawn-Boy 10730 Push Gas Mower
2. Yard Machines 140cc 21-Inch Push Mower Review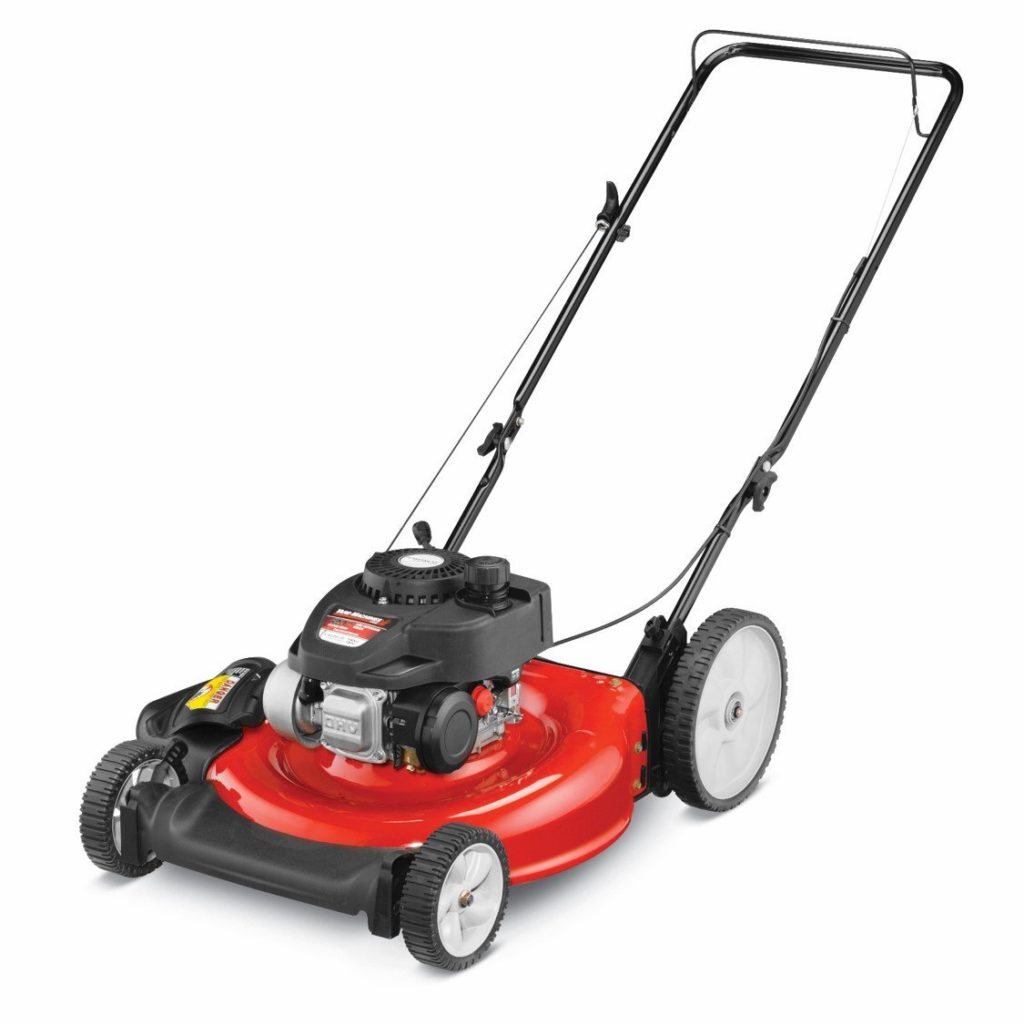 Price: $212.96
Buy Yard Machines 21″ Push Gas Mower
Yard size: 1/4 – 1/2 acres.
This 21-inch push gas mower is powered by a 140cc OHV engine from Briggs & Stratton. It's a 4-cycle engine and it akes regular gas to run. The mower comes with oil included.
The cutting deck is a 21-inch steel deck with convenient dual-lever height setting adjustment.
You can choose between mulching and side-discharge. No bagging is available with this mower.
Large 11″ rear wheels and 7″ front wheels. Easy to push. My 13-year old daughter can do it.
Backed by a 2-year limited warranty.
Weighs just 62 pounds.
Bottom line: Good mower for the price. Most suitable for small to medium size lawns.
Buy Yard Machines 21″ Push Gas Mower
3. Yard Machines 140cc 20-Inch Push Mower Review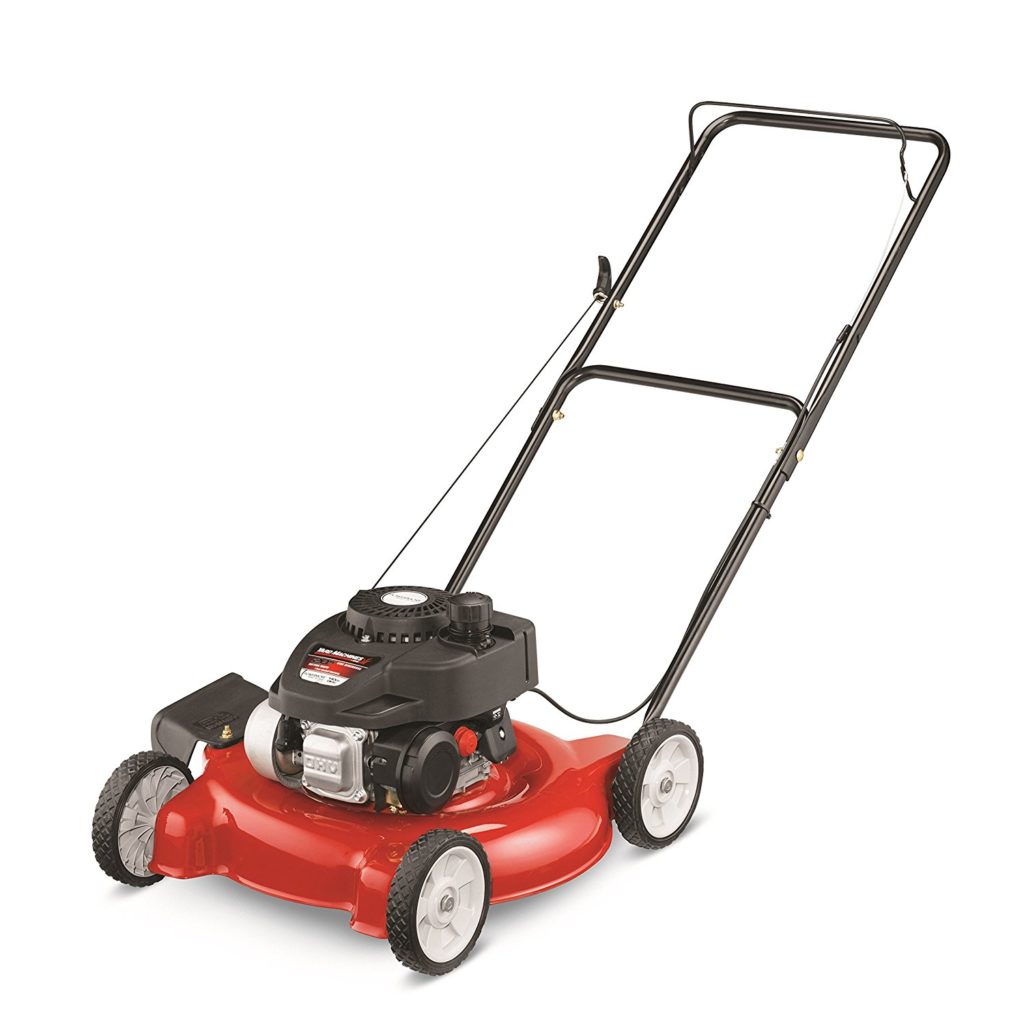 Price: $150.98
Buy Yard Machines 20-inch Push Gas Mower
Yard size: 1/4 acres or less.
This mower is not for sale in the state of California.
The Yard Machines 20-inch gas push mower comes with a 140cc 4-cycle OHV engine from Powermore. Just use regular gas. Good an quiet engine.
Oil is included when you purchase.
Choose from 3 cutting height positions.
No bag collecting, no mulching kit.
7-inch rear and 7-inch front wheels.
Super lightweight, just 43 pounds.
Backed by a 1-year limited warranty.
Bottom line: This is a very popular and budget-friendly mower. It lacks many features compared to other models but if cheap and simple is what you're after then this is the mower for you. Best suitable for yards up to 1/4 acres but this really depends on how much time you want to spend mowing.
Buy Yard Machines 20-inch Push Gas Mower