Last updated on January 8th, 2019
Last year my husband and I leased a condo for a year while I was on temporary assignment for my job. There was just no room for our wood pellet grill in the tiny excuse for a back yard so we ordered the Masterbuilt as a temporary replacement. My husband was a bit skeptical but the 30 inch model was an easy fit and does a decent job for what it is.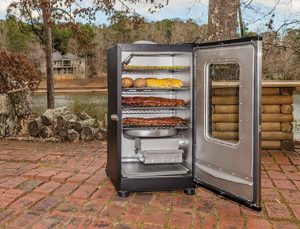 If you are expecting a full bodied smoke flavor from a small, inexpensive electric smoker you may be disappointed. As another reviewer pointed out, it is somewhat difficult to get the Masterbuilt to actually get your wood chips smoking at lower temperatures which limits your ability to have a long, slow smoke for your meat.
You can still cook some tasty cuts of meat but the main advantage will be in tender meat rather than a true smoky flavor.
When we cooked meat in the Masterbuilt I always made sure to use a marinade to make up for the lack of smoky flavor. We had several great gatherings with new friends and neighbors and everyone thought the meat was great so at the end of the day it did perform well. For someone who lives in an apartment with a balcony (don't use this inside!) or only has a patio the Masterbuilt is a great alternative to cooking in the oven.
Now that we are back home I use my big wood pellet grill for smoking. We ended up keeping the Masterbuilt and usually use it when we are just cooking for our immediate family or for the vegetables. I always hated trying to coordinate meat and vegetables on the same grill so having the Masterbuilt is really convenient.
As you can probably guess the Masterbuilt is perfectly sized for things like bell peppers and sausages or even small racks of ribs but larger portions of meat can be a bit tricky. It just isn't possible to cook something like a large ham, at least in the 30 inch model. You should consider getting the 40 inch model if you need to smoke big stuff like turkeys. We usually cook for big groups if we bother to smoke so I would not use this as your main outdoor cooker unless you only cook for smaller groups. Ribs, chicken wings, sausages, burgers, and steaks all fit in just fine.
I do really like the the window in the front and would not recommend buying the no window option. It's great to be able to take a look at the food without having to open the door. This is especially important with this unit as it seems to lose heat with even a quick open of the door.
If you don't already have one I would recommend picking up a remote digital thermometer for your meat so you don't have to keep opening the door and losing heat. Plus its nice not to have to interrupt conversation to get up and check on the meat temperature. I know this one has a built in probe but you still have to get up to check on it so make the small investment and get a remote sensor.
We usually store the Masterbuilt in the garage when it's not in use so we didn't bother to buy a cover for it but its not built out of the best stuff so I would say it should definitely have a cover if you plan on keeping it outside.
Fortunately we haven't had problems with our heating element yet but I know many other people do. For us this wasn't a big concern as this unit was always meant to be temporary and it really is just a bonus that we can still use it now that we are back home. I honestly don't think we would bother replacing the heating element or trying to re-wire it (I can just see someone getting electrocuted with a botched wiring job!).
If you want a smoker that is going to last for years you will probably need to invest some more money than the $250 we paid for the Masterbuilt. Our wood pellet grill cost almost a thousand dollars new and is definitely a heavy duty, made to last grilling machine.
If you are on the fence I would suggest ordering via Amazon Prime. I was really happy to see that you can use Amazon Prime for shipping on this as I never have problems returning items I've ordered through Prime. It feels a bit safer than using third party sellers who may not take back a defective unit.
Overall, as much as this unit does have some issues, I think it is a good buy for what you are paying.
Baby it a little bit and you will have a decent electric grill. Don't overload the racks with heavy cut of meat and you can avoiding some of the issues with the screws.
Ours is still going strong and we hope to enjoy many more parties with the Masterbuilt smoking along.