Last updated on April 13th, 2020
Mobility scooters are not just a faster way to get from point A to B. For people who can no longer walk long distances, these vehicles are lifesavers, literally.  Purchasing a power scooter can give grandpa (or mom/dad/grandma/you) back the freedom and independence you've always known them for.
If you or someone you know have trouble going to the grocery store, no longer plans vacations because of the amount of walking involved, or just have trouble getting around your house you should consider trying a mobility scooter.
Power scooters are ideal for adults and elderly people who can still walk a little bit but have problems with stamina and strength.
Note:
Mobility scooters are quite powerful devices, offering rather high speed. If you're looking for something smoother, or perhaps more suitable for the disabled, you should take a look at our guide on
best electric wheelchairs
.
Latest updates:
Apr 13th, 2020 – major update for 2020
Jan 31st, 2019 – few edits to the content
Dec 10th, 2018 – few edits to the content
Jan 11th, 2018 – updated for 2018
Jun 7th, 2017 – added information about power chairs
Jan 3rd, 2017 – updated for 2017
Nov 11th, 2016 – updated comparison table
Expert advice: Don't buy just any mobility scooter. Decide what is the most important criteria for you (or the person who'll be using the scooter). Portability, traveling long distances, weight capacity, comfort, speed, maneuverability?  Then pick the top rated model in that category. Our expert mobility scooter reviews will make it easy to pick the best mobility scooter for your needs. If you need any assistance, leave a comment at the bottom of the article.
Cheers to getting back your mobility and freedom!
Overall Best Mobility Scooters (for the elderly)
Image
Scooter Manufacturer and Model
Sale Price
Average Rating
Customer Reviews

Most Comfortable


Shoprider Sunrunner
$1929.00
4.6
34
Pride Mobility Go-Go Sport 4-wheel Electric Travel Scooter Heavy Duty S74
$1379.00
4.5
61
Drive Medical Phoenix Heavy Duty
$1299.00
4.4
66

Most purchased


Drive Medical Scout Compact
$999.00
4.3
640

Top Rated


SmartScoot Lithium, Lightweight, Foldable Travel Electric Scooter
$2299.00
3.7
48
Best Long Range Mobility Scooters
These power scooters are most suitable for outdoors use. They give you an extended travel range of up to 45 miles on a single charge.
Scooter
Scooter Model
Range
Price

#1 bestseller


Merits Silverado Extreme 4-Wheel Mobility Scooter
37.5 miles
$4,698.00

Maximum Range


E-Wheels EW-42
45 miles
$2999.00
Merits Silverado 4-Wheel
25/32 miles
$3,600.00
E-Wheels EW-72 4-Wheel
43 miles
$2,899.00
Best Foldable Lightweight Mobility Scooters
Are you traveling a lot? Want to take your scooter to the other side of the country? Or perhaps around the world on an airplane?
These portable scooters are easy to fold and transport in the trunk of your car. Or take them with you on a cruise ship, and even an airplane.
Image
Scooter
Weight
Price
Rating
Reviews

Top Rated




Lightest


SmartScoot Lithium, Lightweight, Foldable Travel Electric Scooter
39 lbs
2299.00
4.9
14
EV Rider Transport Foldable Travel Senior Electric Mobility Scooter
60 lbs
1288.00
4.8
5
Transformer Electric Folding Mobility Scooter (Blue)
55 lbs
2195.00
4.4
7

Popular Choice


ACTON M SCOOTER – FULLY FOLDABLE, ELECTRIC, SIT OR STAND SCOOTER, 48 VOLT
72 lbs
899.99
4
30
Easy Travel Elite Folding Lightweight Travel Electric Mobility Scooter
58 lbs
1477.90
3.9
7
#1 Scooter for traveling (and the most lightweight)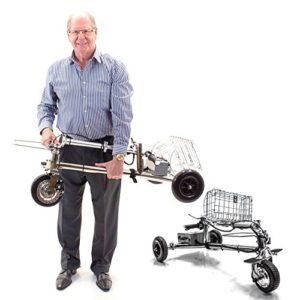 If you are looking for a lightweight mobility scooter that you can fit into the trunk of your Toyota Prius or take with you on a cruise ship or airplane, then we suggest you take a closer look at SmartScoot Lithium power travel scooter.
What we like about it
Weighing only 39.5 lbs (18 kg) SmartScoot Lithium is the most lightweight mobility scooter there is. The heaviest section weighs 27 lbs (12 kg), which is the lightest there is on the market today.
Because SmartScoot is so lightweight and easy to fold and unfold it makes it a perfect scooter for traveling and taking it with you in a car. One of the major benefits of SmartScoot is that it fits easily in most automobile trunks and in all SUV's and Vans. For example, it fits in a Toyota Prius with no issues. Just take off the seat and battery and lift it into the trunk of your car.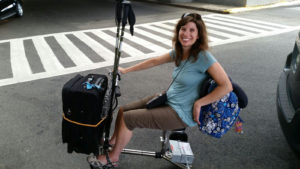 Perfect for traveling. You can even take the SmartScoot with you on a cruise ship or airplane. It's Airlines Approved, just print the FAA documents.
No tools required to fold/unfold. Easily breaks apart into 3 sections.
The frame is made of stainless steel, making it strong, rust-proof and durable.
Unlike most other scooters, SmartScoot Lithium, as the name suggests, comes with a Lithium Ion battery out-of-the-box. That's one reason why it's so lightweight. The Lithium Ion battery also gives SmartScoot a longer than average operating range – up to 12 miles with one charge.
The tires are solid rubber so they won't ever go flat.
What's not so great about it
It's pricier than most other scooters so make your own decision if the freedom it can give you is worth the price tag  (I believe it is).
Specs:
| | |
| --- | --- |
| Weight | 39.5 lbs |
| Max speed | 7 MPH |
| Weight capacity | 300 lbs |
| Comes apart? (heaviest piece) | Yes (27 lbs) |
| Max Range | 12 miles |
| Turning radius | N/A |
| Max climbing angle | N/A |
| Extras | Airlines Approved, Super lightweight |
| Warranty | 2 years on the scooter frame, 1 year on all parts and batteries |
Best Heavy Duty Mobility Scooters
These scooters are most suitable for people who
want to take the scooter far (up to 45 miles) without recharging
weigh more than 250 lbs (113 kg)
like to go fast when needed.
#1 Long Range Mobility Scooter
Most electric scooters can travel up to 10 miles without a recharge.
EW-36 from E-Wheels will take you 45 miles (72 km) on a single charge.
That's 4-5 times more distance covered than what most other scooters offer.
EW-36 is a true heavy-duty scooter by all means:
Comes with 4 x 12V 20ah batteries
Maximum weight capacity up to 400 lbs
Comes with a large 18-inch foldable seat
Maximum speed 18 MPH (29 km/h) makes it by far the fastest mobility scooter on the market
Longest operating range: 45 miles
It also comes with a built-in anti-theft alarm system.
In conclusion:
EW-36 is not the lightest and most portable scooter out there, nor is it the cheapest ($1,999.00) ..
But if you like a heavy duty machine that will last and not leave you in trouble on long trips then EW-36 is your #1 choice.
You'll also like it if you want to get around fast.
Specs:
| | |
| --- | --- |
| Weight | 200 lbs |
| Max speed | 18 MPH |
| Weight capacity | 400 lbs |
| Comes apart? (heaviest piece) | No |
| Max Range | 45 miles |
| Turning radius | N/A |
| Max climbing angle | N/A |
| Extras | Anti-theft alarm, adjustable headrest |
| Warranty | 3 years |
Note: Currently the best available price ($1,999.00) is on Amazon, and it comes with a free shipping.
Best Mobility Scooters Under $1000
We understand that you don't always have an unlimited budget, so we've compiled the best under $1000 mobility scooters in this table.
Image
Title
Price
Rating
Reviews

#1 Bestseller


Drive Medical Scout Compact, 4 Wheel
$799.00
4.3
640

Popular choice


Drive Medical Scout Compact Travel Power Scooter, 3 Wheel
It's the 3 Wheel version of the above best seller, adding better maneuverability.
$619.95
4.3
91

Top Rated


Drive Medical Scout DST 4-Wheel Travel Scooter, Red and Blue
$851.99
5
5
Buzzaround Lite 3 Wheel Scooters Seat Size: 15″ W x 14″ D
$849.00
4.8
5
Drive Medical Scout DLX Compact Travel Scooter, 4 Wheel
$755.50
4.5
9
Drive Medical Bobcat 4 Wheel Compact Scooter, Red
$688.00
4.3
44
Go-Go Ultra X 3-Wheel Travel Mobility Scooter Including 5 Year Ext. Warr.
$829.00
4.1
34
Enclosed Cabin Mobility Scooters
We don't yet have much information and feedback from the owners of these type of scooters. Enclosed scooters are more luxurious and come with  many extra features like heavy duty batteries, windshield wipers, LCD control displays etc. They are great for those days with less than perfect weather. They are also more expensive than the regular open models.
Six top Mobility Scooter reviews
The Drive Medical Phoenix 4HD power scooter is ideal for you if you want good comfort but also the ability to take the scooter apart and with you in a car. This model allows you to use it around the house (non-marking tires), outdoors, or pack it up in the car and head out on a road trip.
Portability – 4HD can be disassembled into 4 pieces without much effort. When taken into pieces, the heaviest part (front part of the scooter) weighs 46 lbs.
Ergonomic throttle control – the hand controls on this scooter make a great option for people with limited hand strength. Ride in comfort instead of struggling to steer your chair.
Non-marking tires – if you use your chair around the house a lot you don't want to be marking up your floors. The tires on this model are easy on your floors and also offer anti-tip protection.
Weight capacity – many travel scooters have a low weight capacity to make them more portable. Drive medical keeps the scooter portable while still making it accessible to people weighing up to 350 pounds.
Range – you can take the Phoenix 4HD on a cruise for up to 15 miles on a single charge.
If you're looking for a solid all-around scooter that's good for both indoors and outdoors as well as traveling and taking with you in your car then Drive Medical Phoenix 4HD Heavy Duty is your best choice.
This model does not come with a headrest so if you have neck problems keep that in mind. If you're looking for maximum comfort then take a look at the next scooter on the list (Shoprider Sunrunner).
Specs:
| | |
| --- | --- |
| Weight | 129 lbs |
| Max speed | 4 MPH |
| Weight capacity | 350 lbs |
| Comes apart? (heaviest piece) | Yes (46 lbs) |
| Max Range | 15 miles |
| Turning radius | 54″ |
| Max climbing angle | 6 deg |
| Extras | Adjustable tiller, adjustable seat, adjustable arm rests, ergonomic throttle |
| Warranty (frame, electronics, batteries) | lifetime, 14 months, 6 months |
Buy Drive Medical Phoenix Heavy Duty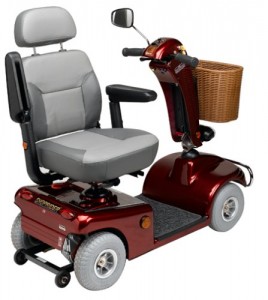 The Shoprider Sunrunner offers a great comfort for the price. This scooter comes completely assembled so all you have to do is plug it in, charge the battery, and then you are ready to go. The seat design allows for easy on and off access. The controls are very intuitive and this chair offers a smooth ride even on a rough terrain. This model really does offer it all and is a great mobility scooter if you're looking for maximum comfort.
Key features:
Choose between the three or four-wheel design – if you need maneuverability in tight spaces you can go with the 3-wheel model. 4-wheel model gives more stability.
Headlight package – this model comes standard with a headlight for nighttime safety. Since scooters are low to the ground you want to make sure cars and bicycles can see you easily.
Deluxe folding captain's seat- this seat is super comfortable and offers a headrest for long trips. When you're ready to store it, it easily folds down which can make a big difference.
Controls – the controls are easy to see and allow you to adjust the speed with a twist of a dial. There is also a convenient battery indicator near the speed control.
Shoprider Sunrunner isn't for you if you're looking for maximum portability. On the other hand, if you're looking for an all around good quality power scooter with excellent comfort and ease of use this is the model for you.
Specs:
| | |
| --- | --- |
| Weight | 180 lbs |
| Max speed | 5 MPH |
| Weight capacity | 300 lbs |
| Comes apart? (heaviest piece) | No |
| Max Range | 25 miles |
| Turning radius | 50″ |
| Max climbing angle | 8 deg (14%) |
| Extras | Deluxe captains seat, full tiller shroud, rear view mirror & basket |
| Warranty (frame, electronics, batteries) | limited lifetime, 12 months, 6 months |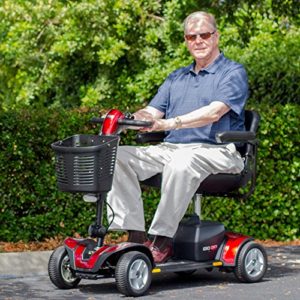 It's great for outdoors. With four 3″ x 9″ solid wheels and an 80-inch turning radius. Runs well over grass and dirt. Probably a bit bulky for indoor use. You might want to look at other 3-wheel models for use indoors.
Comes with an 18-inch seat and a 325 lbs weight capacity making it not the most heavy duty machine out there, but nevertheless a good choice for someone 6 ft tall and more.
All-new frame design easily disassembles into 5 lightweight pieces for convenient transport and storage.
With a charger port in tiller (convenient off-board dual voltage charger can charge battery pack on-board or off-board), and standard front LED lighting.  Includes 2 sets of easily changeable colored panels in Red and Blue
It's not the most heavy duty or fastest (4 MPH), nor is it the most lightweight and portable, but the S74 is most praised for its great quality and durability, good battery life and comfort.
Specs:
| | |
| --- | --- |
| Weight | 99.2 lbs |
| Max speed | 4.7 MPH |
| Weight capacity | 325 lbs |
| Comes apart? (heaviest piece) | Yes (44 lbs) |
| Max Range | 12 miles |
| Turning radius | 50.5″ |
| Max climbing angle | N/A |
| Extras | Charger port in tiller, Incl changeable colored panels (Red and Blue), one hand disassembly |
| Warranty (frame, electronics, batteries) | limited lifetime, 24 months, N/A |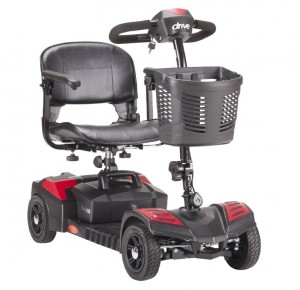 Drive Medical Spitfire Scout offers excellent value for the price. If you want a lightweight, compact scooter that maneuvers well on a rough terrain all in an affordable package this is the scooter for you. Quick charging and a decent range make the Spitfire Scout perfect for outdoor ventures or trips to a supermarket.
Affordability- at less than seven hundred dollars this model offers great value while not sacrificing functionality.
Portability – the Spitfire Scout can be easily disassembled for transportation in car trunks see you don't need a dedicated power chair lift installed on your vehicle.
Maneuverability – the compact four-wheel design ensures that you will be able to navigate tight corners without sacrificing stability.
Accessories – the Spitfire Scout is compatible with Drive medical cupholders, crutch holders, and interchangeable colored plates for customization. It also comes with an attached basket.
If you're looking for a scooter that gets you out and going without breaking the bank, the Spitfire Scout is a great choice.
Specs:
| | |
| --- | --- |
| Weight | 94 lbs |
| Max speed | 4.25 MPH |
| Weight capacity | 300 lbs |
| Comes apart? (heaviest piece) | Yes (39 lbs) |
| Max Range | 9 miles (12AH) | 15 miles (20AH) |
| Turning radius | 53.75″ |
| Max climbing angle | 6 deg |
| Extras | Adjustable tiller, adjustable seat, adjustable arm rests, ergonomic throttle |
| Warranty (frame, electronics, batteries) | lifetime, 14 months, 6 months |
Buy Drive Medical Scout Compact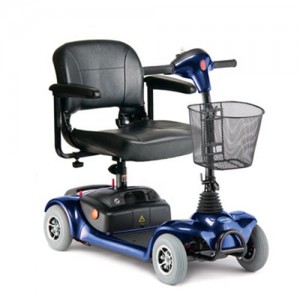 The Invacare Lynx power scooter offers customization for maximum comfort at a very affordable price. The four wheel base means it can be easily used indoors or outdoors. If you have very narrow hallways this may not be a great indoor chair for you. This scooter is great for people who have difficulty lifting their legs as it is very low to the ground.
Customization – the Invacare Lynx offers the ability to change armrest width, seat height, and tiller angle. This gives you more freedom to find a comfortable fit without spending thousands of dollars for customized chair.
Versatility – with a 300-pound weight limit and a four wheel design with a sturdy base this chair can get you through your grocery shopping on a long walk around the neighborhood.
Tires – the tires on this model are a flat free design which means if you run over a nail or a sharp piece of glass will not pop air filled tire. Instead, these tires are filled with foam. While there may be a little more noise from the tires than you would get with air-filled ones, these are much more durable.
Price – at under eight hundred dollars you get a scooter you can easily modify the fit your body and comfort level. The 300-pound weight limit is more than sufficient for most users in a 7-mile range is very acceptable for general use.
If you're looking for an everyday chair with great value and functionality the Invacare Lynx is an option you should consider.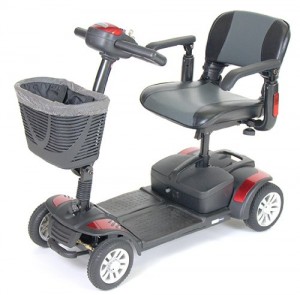 The best feature of the Active Care Spitfire is the ability to extend its range to up to 15 miles with optional heavy duty batteries. If you want the greatest range at an affordable price don't overlook this chair. The stock batteries still offer a good range and the Spitfire can be disassembled for transportation.  You do need to purchase a wrench for disassembly so consider purchasing one when you buy. This scooter was designed with the active user in mind.
Range – this model has an excellent range if you're willing to purchase the larger batteries. While it'd be great if the batteries were included, a 15-mile range makes the extra expense more than worth it.
Design – with four anti-tip wheels you can make the most out of your 15 miles. The open design also makes it easy to get on and off the chair. This is great if you plan on taking a chair vacation and want to move about see the sights.
Controls – the Active Care offers two options for speed control. You can either turn a dial or press the handle for more responsive speed changes. In situations where you need to adjust the speed frequently, this feels much more natural.
Adjustability – you can change the angle of the tiller and adjust the armrest or remove them entirely. If you are shopping or at a museum the freedom to remove the armrests can allow you to interact much more easily without getting up and down from the chair.
Buy Active Care Spitfire 1420 EX
10 Key Features to Consider When Buying a Power Scooter
Maneuverability

When looking for a power scooter you want to make sure the one you buy matches your needs. Some scooters do a great job of making sharp turns. If you plan on using your scooter mostly indoors this is especially important. You don't want to get stuck trying to turn into another room. If your scooter will be mostly for outdoor travel you will want a model with more rugged wheels.

Operating range

Not all mobility scooters are created equal. If you plan on doing a lot of traveling with your scooter you will want one that has a large operating range, that is, one that can go many miles on a charge. Some scooters have an operating range around 10 miles while others can go up to 30 miles or more before needing to be recharged. If you only plan on taking your scooter to the grocery store or on an occasional trip around the neighborhood in lower operating range is probably fine. If you want to go explore the Grand Canyon you definitely want to find a model with a long operating range.

Max speed

The basic power scooters that you see provided in stores are often very slow. If you purchase your own mobility scooter you can choose a higher-speed model that may have a max speed of 20 miles an hour or more. If you have difficulty with your hands and precise steering movements you may want a slower scooter. A high-speed power scooter is great if you plan your scooter to get around town instead of car.

Battery life

Battery life is incredibly important. If you battery is dead you are not to go anywhere you want pay careful attention to battery life when shopping around. You may be able to replace the battery on your scooter with a higher powered model but it's best to purchase a scooter that has a battery life that will meet your needs from the get-go.

Warranty

Hopefully, your mobility scooter will last you for many years. To get the most out of your scooter pay careful attention to the warranty. A good warranty means the manufacturer stands behind its product. Warranties may cover things like wheel malfunctions and seat cushions that wear out early. Often the warranty will pay for both labor and parts costs.

Battery warranty

Batteries on power scooters often covered by separate warranty. Is very important to understand how long your battery is under warranty as this may be one of the most expensive parts replace and is the most vital. If your insurance covered your power scooter they may require you to use it for five or more years before buying a new one. You want to make sure you're covered if your battery goes out before that period ends.

Portability

If you plan to use your scooter only around the house you probably won't need to worry too much about portability. However, most people user scooters both in the house and in town. Portability then becomes an important consideration. You want scooter you can get in and out of your car or load onto a car carrier. If portability is important, you might want to consider getting an electric wheelchair instead.

Comfort

A power scooter should give you the maximum independence possible. For this to happen you need to be comfortable in it. If the seat rubs or your back is uncomfortable chances are the scooter is just going to sit in your garage. You may want to consider an ergonomic seat and consult a physical therapist or other professional before you buy the scooter.

Accessories

Mobility scooters offer many different accessories depending upon the model. If you use crutches you want to find a scooter that has an attachable crutch holder. If you plan on using your scooter outdoors at night you will want one that has a headlight. Some scooters are also specialized for people who have difficulty using one of their hands. These scooters have special adapters for use with one hand. Depending on the brand you may also have a choice of color. If you're going to use you scooter a lot get one that looks fun see you can enjoy riding in it.

Cost

Power scooters vary significantly in cost. The chair you choose will be dictated in part by how much you can afford or how much your insurance company is willing to pay. If you want to scooter that your insurance company does not cover they may pay up to their maximum amount and allow you to cover the rest. You may also have pay for accessories like headlights and crutch holders unless you have a doctor's note stating that the accessory is medically necessary.
A power scooter can change your life. Walkers and manual wheelchairs can tire you out and trying to keep up with everyone on long trips can be exhausting.
Mobility scooters give you back your freedom whether that's around town or on a road trip.