Last updated on April 1st, 2019
First off let me say that when the REC TEC wood pellet grill was first delivered I thought I had made a big mistake. Not only was the shipping quite expensive but the grill arrived in a heavily damaged box. They must use a little magic when they pack these things though because the grill survived just fine without a scratch on it! Of course it probably has something to do with the solid metal construction this grill comes with.
Assembly
My grandfather used to be the one doing all of the smoking but recently he started getting tired of entertaining everyone so the torch was passed to us. I have never assembled a grill before and the instructions weren't super clear. I'm not very mechanically inclined but I was able to put it together in about an hour and a half. It would be really nice if the instructions provided clear pictures with all of the parts shown for the relevant step.
Other than a bit of confusion during assembly, it honestly wasn't as hard as I was imagining it. This grill is definitely heavy though. If I had to put another one together I would wait until my husband was home to assist me!
Pellets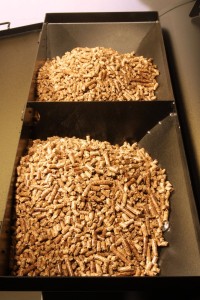 Buying pellets was so much more convenient than dealing with messy wood. I truly do love not having wood splinters in my car every time we BBQ! We've been able to get a good deal on wood pellets at Costco and they have a couple of different flavors.
The Rec Tec wood pellet grill seems to use the pellets a little more efficiently than my grandfather's grill did, but of course his is at least ten years old.
Trial run and cooking large portions
Once I got the grill up and assembled we figured it would be a good idea to do a trial run before we cooked for the extended family. My sister overcooked the turkey at Thanksgiving five years ago and she still hears about it anytime the family gets together. My husband did not want to be the next one to mess up a family recipe! We decided to give Tri-tip a try since we grill that on a regular basis. Let me say that using the Rec Tec for large pieces of meat is an exercise in patience. It took most of the weekend to finish but the meat was so tender and flavorful.
Some accessories we decided to go with
After realizing just how long it takes to cook large portions of meat and knowing how big our gathering get we went ahead and bought a remote digital thermometer. If you are purchasing the grill I would recommend buying at least a remote digital thermometer to start off with. Having one on hand will save you a lot of checking and make the smoking experience more fun.
We ended up going with the Maverick Wireless BBQ Thermometer. It cost about $60 bucks which is a little pricey but compared to the price of the grill itself the thermometer was quite affordable. I am able to walk all around the house with it and have it alert me when the meat get to the right temperature.
We also ended up purchasing the REC TEC Grill Mat. It's pretty inexpensive and super convenient for veggies.
First successful cookouts
I loved the smoky taste my cubed zucchini picked up in the grill. I have some vegetarian friends so next time we have a get together I plan to grill some portobello mushrooms for them while the meat is finishing up.
For our first big gathering after we bought the grill we cooked a ham with a brown sugar glaze (my grandfather's secret recipe of course). I was really nervous and I think my husband was already imagining all of the ribbing he would receive for a poorly cooked ham but it turned out delicious.
The meat was perfect-juicy with a nice crunch to the skin. I had planned to use the leftovers for our family's lunch the next day but we didn't have any ham left over at all! Even my grandfather who is notoriously picky about his ham came back for seconds. He has now happily passed all of the grilling and smoking duties onto my family and enjoys letting us spend the weekend cooking now!
Normally with a purchase this large I would go to a local store. After all, return shipping on the grill would have been ridiculous so I thought long and hard before purchasing it from Amazon. I was a little nervous after reading that some people had issues with the electronics going out but I was really impressed with all of the comments about great customer service. Thankfully we haven't had any problems with the grill in the few months we've had it but I'm glad to know that the company actually cares about standing behind their products. Lots of companies these days just throw together the cheapest product they can sell but that definitely isn't the case with Rec Tec.
What you should do next: