Last updated on October 23rd, 2019
In this Guide about Riding Lawn Mowers you'll learn:
What are the best riding mowers for small, medium and large lawns
How a regular riding mower (lawn tractor) compares to a zero turn mower
What to consider when choosing a riding lawn mower for yourself
Reviews of the top rated and most popular riding mowers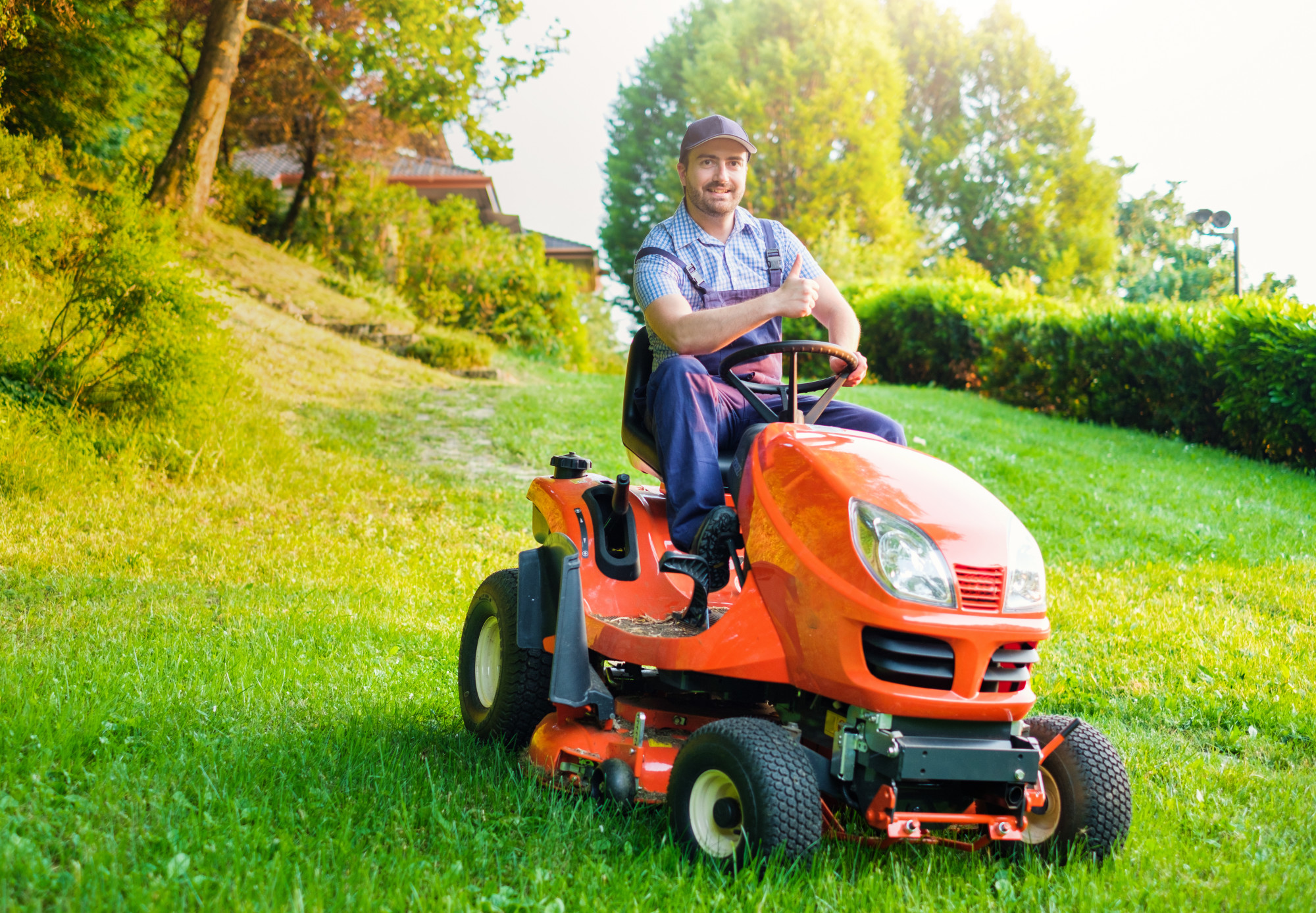 What you'll want to consider when buying a riding lawn mower
Deck size/cutting width, which translates into capacity, the area that a mower can cover in a certain time frame. Most riding mower manufacturers have models with deck widths ranging from 30 inches to 54 inches. You'll find sizes in between like 36″, 42″, 46″, 48″, 52″. 54-inch mowers are best for large yards of surface area 2-3 acres and more.
Maneuverability. The size of the mower and its turning radius are important factors to consider. If your yard has many tight spots and passages, probably the largest mower is not for you. Turning radius is measured in inches, the smaller the number the more maneuverability the mower offers. If maneuverability is the key criteria for you, we suggest taking a look at zero turn mowers.
Reliability (mower and engine brand). Fortunately we've done most of the work for you and only included top rated mowers in this article. However, you still want to check the warranty and customer reviews before buying.
Cutting height – most models offer cutting height of 1.5″-4″ and 4-6 settings to choose from. The more pricier models give more options but for residential needs I have found that they all have enough settings.
Cutting methods – does the model allow for collecting and mulching capabilities or only side discharge, and is this important to you.
Transmission type – manual or automatic.
Max forward speed – around 5-8 mph. This usually only matters when you have a lot of very flat ground to cover.
Drive method – lever operated or pedal operated.
Best lawn tractors and riding lawn mowers
In this table we've combined the most popular and reliable riding lawn mowers on the US market today. We couldn't fit all the information in this table so scroll down for more thorough individual riding mower reviews. You can also click on the mower picture or name in the table to learn more about the particular riding lawn mower model.
Best small riding mowers for small lawns
For small lawns, you'll want a mower with a small deck size and a small cutting width of 24″-39″. Note: If you have a lawn up to 1 acre in size, you might want to consider a robotic lawn mower instead.
These riding mowers are capable of mowing up to 1.5 acres per hour. The smallest model you'll find in the table is not much bigger than the push mowers that typically have around 20″ cutting width. However, the added speed and comfort of a riding mower gives you the same result at least twice as fast when compared to a walk-behind mower. The following riding mowers are ideal for small yards or lawns with tight spaces.
Best riding mowers for medium lawns
Deck size: 40″-49″.
Mowing capacity: 1.5-3 acres per hour depending on the speed and deck/cut width of the mower.
Most powerful riding mowers. Best for large lawns
Deck size: 5o"+Mowing capacity: 2.5+ acres per hour.
Best riding mowers for hills and inclines
Why do you need a riding mower for hills? While classic mowers are great for minor slopes and flat ground, they aren't the greatest when it comes to cutting that hilly grass.
If you're not using the right equipment, mowing hills can be both challenging and dangerous. Without enough power, your mower won't be able to graze up and down those steep hills and slopes. And the last situation you want to be in is one where your mower starts to fall back down towards you!
While there are a couple of self-propelled mowers that may get the job done, most of the efficient options we'll be covering are of the riding type.
What Do the Best Mowers All Have in Common?
In your quest for the best lawn tractor for hills, there are a few commonalities you want to look for.
Some of these are as follows:
Traction tires
Lots of power
Even weight distribution (you don't want to flip)
Smooth acceleration (with hydrostatic transmission)
Smooth stopping (with hydrostatic transmission)
When you look for a machine with these qualities and take a little bit of time to plan the task ahead, you'll ensure a safer experience, a cleaner result, and efficient use of your time.
Check out the Cub Cadet XT1 46-Inch Enduro
This lawnmower is truly one of the best mowers for hills AND uneven terrain. It has a forward driving speed of up to 5.5 mph and can also reverse at a speed of 2.5 mph. The engine has great cutting power and a 16-inch turning radius. Some of the other pros are:
LED headlights (for low-lighting conditions)
11 gauge fabricated deck (for durability on rough terrain)
V-Twin engine has excellent cutting power
Easy to handle on tough terrain
Traction tires (for navigating hills of up to 15 degrees)
15″ Front wheels, 20″ rear wheels
Comfortable high-back seat (with multiple adjustments_
Because of the hydrostatic transmission, the machine allows for smooth stops and starts.
When it was tested by starting from a dead stop on a slope, there was no jumping or spinning of its wheels. The start was smooth.
It has a 3-gallon gas tank, which makes it great for large yards. And it has a comfortable and supportive seat to complement the long job.
On most of the hills and inclines, it's safer to cut up and down. But for slightly steep inclines, it's possible to cut by moving across the face of the hill. And it also has a brake pedal lock and a reverse safety switch that both make it an excellent steep bank mower.
Check out the Swisher ZTR2454BS
The creator of the Swisher didn't like mowing lawns. So he got into the business of making more efficient, easier-to-use lawnmowers. Before he invented the "Ride King," he even tried tying a mower to a tree to try and make circles on a hill. But it wasn't efficient, nor was it very safe. He wanted something that had more power and better results.
The Swisher ZTR2454BS is just that, and more! It boasts speeds of up to 8 mph. Plus, it has a myriad of great features, such as:
Foot-assisted deck life
8 mph forwards AND in reverse
8-gallon fuel capacity
1.5-inch to 4.5-inch cutting range
Full engine wrap
A high-back seat that has armrests
12V adapter
Front and rear hitch
24 HP Briggs and Stratton engine
Rapid Response Control System (for improved control and comfort)
Hydro-Gear 2800 transmissions
Ogura clutch
The Swisher is also made in the United States! Plus, Swisher has over 60 years of experience in the industry, so all of their models are tried and true.
In addition to being the best mower for hills at your home, it's also an excellent choice for starting a landscaping business. If your hills are very steep, this is definitely the best mower for the job.
If you have a lot of trees on your lawn and you're looking for some other zero-turn options, take a look at these zero-turn mowers.
The Best Riding Lawn Mower for Hills Is Reliable and Comfortable
While there are a lot of excellent mowers for inclines and hills, the best riding lawn mower for hills is the Swisher ZTR2454BS, especially if your lawn is extra steep and hilly.
While it may be tempting to avoid investing in such a machine, you'll save time and money in the long run. Plus, you'll be able to sit comfortably and with peace of mind, knowing that you're doing the jobs safely and efficiently!
Mowing a lawn can be fun and easy, but it can also be dangerous, so it's essential that you choose the right mower for the job.
Do you want to check out what technology has done for the lawn mowing industry? Check out these autonomous robot mowers!
5 best riding lawn mowers
Reviews by experts and owners of riding mowers
1. Troy-Bilt TB30 Neighborhood Rider
Riding Lawn Mower, 30-inch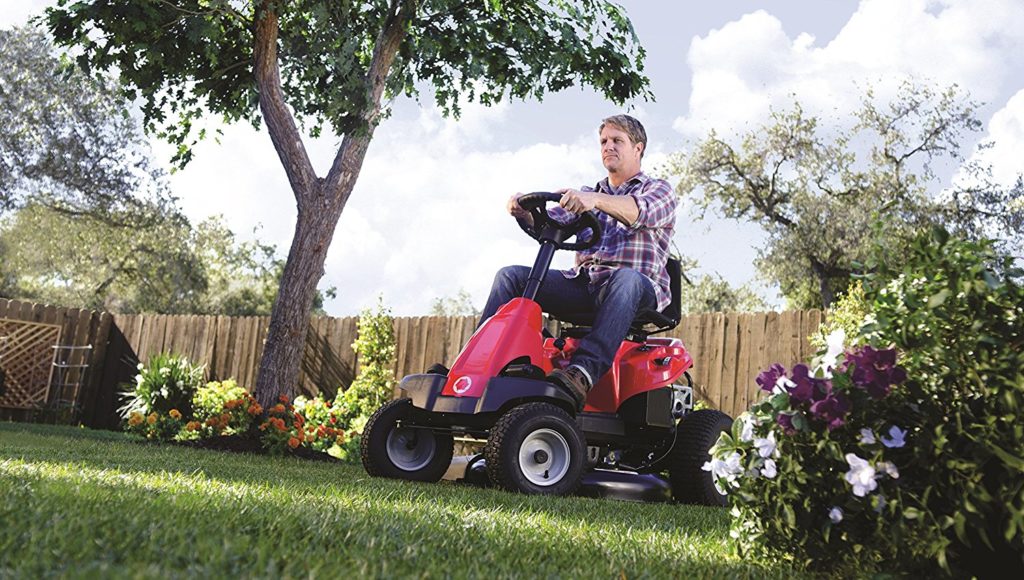 $1249.99
Buy Troy-Bilt TB30 Neighborhood Rider
This is the most popular riding mower among homeowners in America.
Compared to other mowers listed here, TB30 comes with a relatively small 30-inch cutting deck which makes it most suitable for yards that don't spread multiple football fields but are too big to cover with a push mower.
The deck is made of a rather solid 14-gauge steel and features 5 adjustable cutting height settings and a side-discharge cutting method.
Troybilt TB30 comes with a 382cc Auto Choke OHV engine featuring top forward speeds of 4.25 MPH and a 6-speed transmission.
As far as maneuverability goes, this mower has an 18-Inch turning radius with 13×5-inch front wheels and 16×6.5-inch rear wheels.
It comes with a 1.3 gallon tank and a fuel sight window – you can easily keep an eye on those gas levels.
The seat also raises to mid-back and the steering wheel is a 13-inch soft grip wheel, supplying you additional comfort.
The Troy-Bilt 382cc 30-Inch Premium Neighborhood Riding Lawn Mower is as compact as the riding mowers go so you can easily store it in the corner of a garage or shed without worrying that it'll take up too much space.
Pros: Great customer reviews and many happy owners, good price
Cons: Not ideal for very uneven terrain, too small for large lawns
Bottom Line: This is the best riding mower for those with small to medium sized lawns and landscape gardens which have relatively even terrain.
2. Husqvarna LGT2654
26 HP Hydro Light Garden Tractor, 54-inch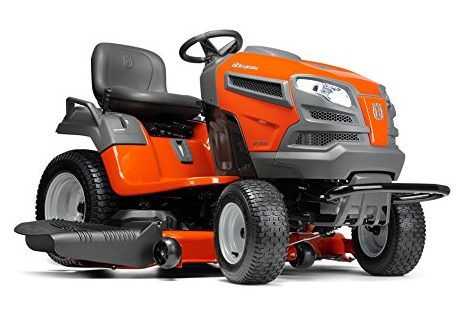 $2399.95
LGT stands for Light Garden Tractor and this Husqvarna model is capable of offering even more than just mowing. Equip this with a variety of towable accessories or a mulch kit for better lawn fertilization.
Perfect your lawn in no time at all with the 54 Inch Husqvarna LGT2654 26 HP Hydro Light Garden Tractor!
With its 26HP Kohler V-Twin engine, Hydrostatic Transmission, cruise control and electric blade engagement, you'll have everything you could possibly need for a productive, high performance cut, every time!
Like all Husqvarna riding mowers, it features air induction technology, improving airflow from both the top and bottom of the deck, giving you improved grass lift, and delivering a superior, consistent cut. It comes complete with hydrostatic transmissions allowing you smooth, variable forward and reverse speed, for greater focus and control.
Although this is the largest mower you find in our riding mower reviews, the Husqvarnas are compact in size. That makes them easy to maneuver and store away easily, which is quite a nice extra if you're tight on space.
Smooth and comfortable to operate, this mower features a fender-mounted cutting height adjustment, adjustable seat and an ergonomic steering wheel.
Pros: Reliable, Large capacity
Cons: Pricier than other models
Bottom Line: Perfect for large, relatively flat landscapes to get the job done quickly.
3. Yard Machines 13B2775S000
420cc Riding Lawn Tractor, 42-inch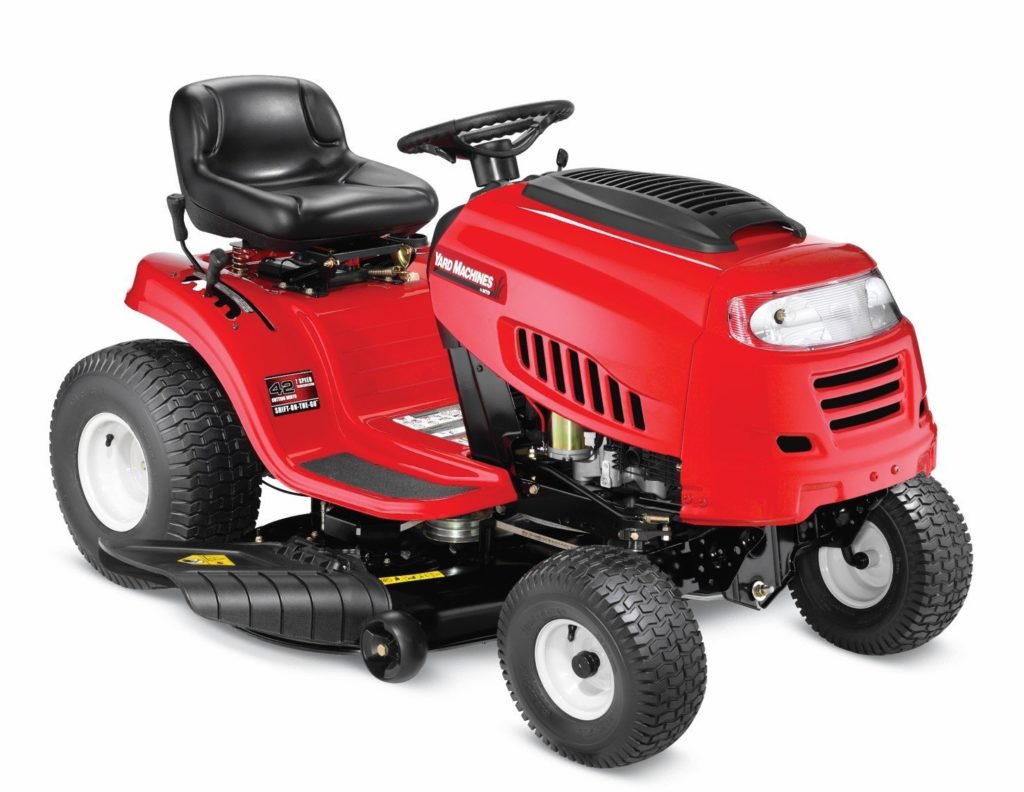 $1349.99
If you never hear of Yard Machines before then know that it is an MTD brand.
This mower is specially designed to allow you to to mow your entire lawn, complete with hilly, grassy areas.
Powered by a 420cc engine which features a seven-speed gear shift, you'll have all the drive you need to ride your mower up small hills and ridges, giving a clean cut in even those harder to reach areas.
It features a 42-inch blade that can cut a wide area, saving you both time and effort. What's more, the mower even includes a mulching and bagging function to help you improve and maintain the appearance of your yards as well.
It's mid back seat is designed to give you a comfortable, easy way to tackle those mowing tasks, and it's also equipped with a Shift on the Go System.
Backed by a 2-year limited warranty.
Pros: Ideal for hilly areas, great maneuverability
Cons:
Bottom Line: Perfect for mowing lawns, small hills, and grassy areas.
4. Cub Cadet XT1
Riding Lawn Mower, 42-inch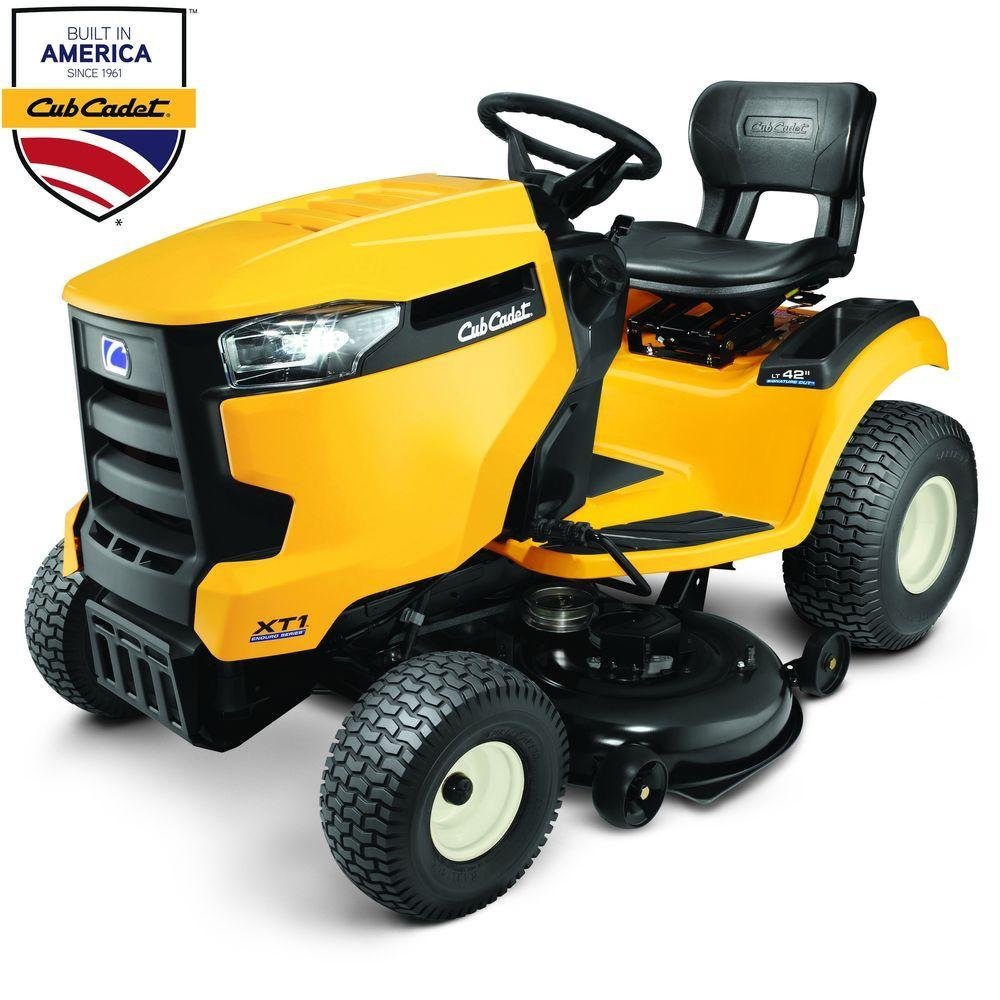 $1891.20
With its strong hydrostatic gas front-engine, you'll be equipped with all the power you need to cut your grass efficiently, evenly, and effectively.
The Cub Cadet XT1 Enduro Series Kohler Hydrostatic Gas Front-Engine Riding Mower is extremely durable, easy to drive and steer with an excellent turn radius, and also easy to maintain, so it will last you years.
Features large drive and deck belts. Optional arm rests can also be installed.
Pros: Easy to use, effective, durable
Cons: Not ideal for hills
Bottom Line: Perfect for medium-large lawns and relatively flat terrain, giving a clean, even cut.
5. Poulan Pro PP20VA46
Riding Mower with Briggs 20HP V-Twin engine, 46-inch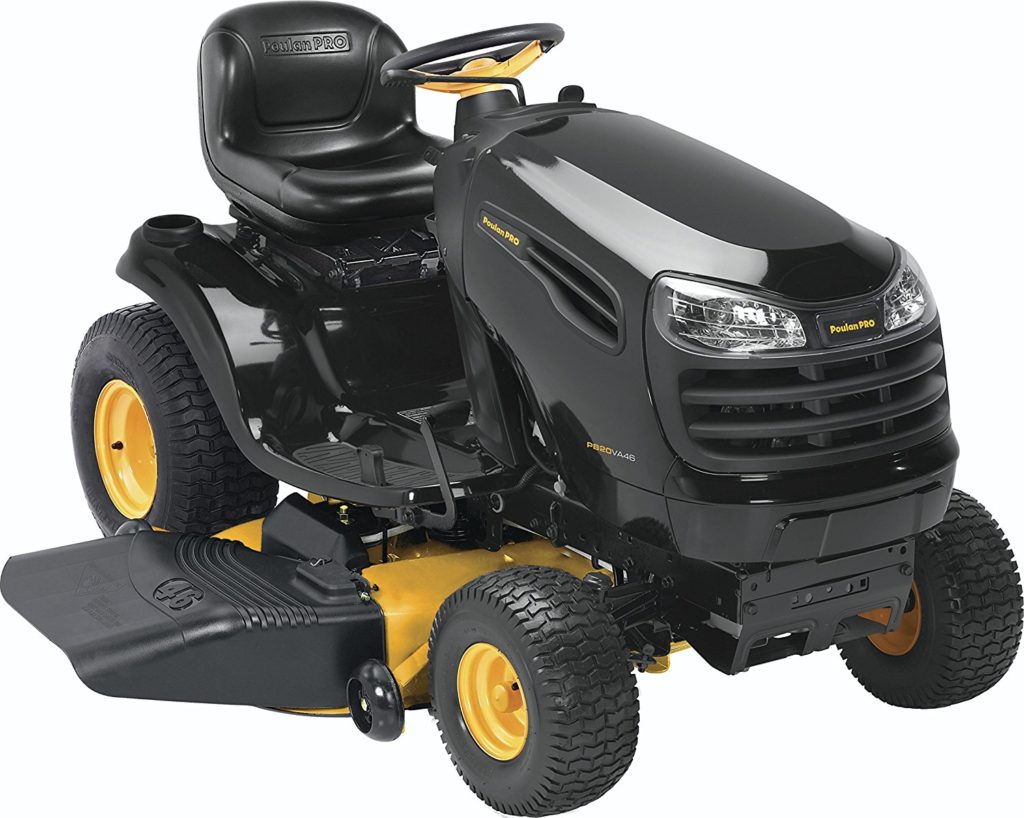 $1460.36
Mow your lawn in half the time with the Poulan Pro PP20VA46 Riding Mower.
The Poulan Pro lawn mower is quick and easy to operate, featuring a high quality motor, 20 HP vtwin Briggs with ready start, and pedal control fast auto-drive transmission, so you can mow your lawn quick and effectively!
Make mowing your lawn an absolute breeze, with the Poulan Pro's 2.5 gallon fuel tank, the 46 inch reenforced cutting deck and the 20 inch rear and 15 inch front tyres, giving you a smooth, even cut in no time at all!
Pros: Easy to operate, 10 year warranty, stylish black design
Cons: Maintenance can be expensive
Bottom Line: Perfect for medium-large lawns and landscapes, with relatively flat and smooth terrain.