Last updated on January 29th, 2019
I bought this smoker more than 3 years ago and have been using it about once every month ever since. Tom paid a visit to my place couple of months ago and was fascinated about the pulled pork I made and asked me to write an honest review about my Smoke Hollow 30162E electric smoker. So here it goes.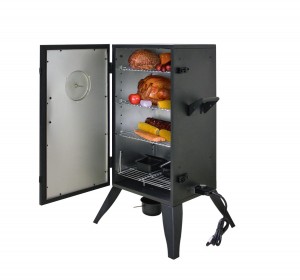 After a little more than three years of semi heavy-duty usage it's holding up strong and rust-free nicely. I'm in Washington and been using it outside in cold weather as well without any problems.
I'd never used an electric smoker before I got this one. I've been mostly using wood smokers, pellet grills and charcoal smokers before but never used an electric smoker.
When using a non-electric smoker it always needed some diligence to keep the temperature right and I could hardly walk away from the smoker for a longer period. So I was pleasantly surprised of how little care and time this thing needs.
Compared to a wood smoker the electric smoker is pretty much set it and forget it.
I remember the first time I used it – the weekend before my birthday. I didn't quite believe in it so I wanted to test the equipment out on some pork ribs. It had been sitting in my garage for almost a week before I assembled it, thought it would be too much hassle but actually took about half an hour, easy. I used the wood chips that came with it, turned the smoker on, shoved ribs in and went to do something else. I guess I expected it to fail in some way and just didn't care to stay and watch what's gonna happen. Hours later I went to check and I was a bit late but still it looked really nice and was damn delicious too. It wasn't as smoky as the wooden smoker I had used but later it turned out that I didn't quite know how to use it yet. My wife also approved even though she's not a big fan of smoked pork ribs.
Small problems you should look out for
A problem I had with the drainage at first was to get the extra juices from meat and veggies to drip into the can. It dripped on to the wood and stopped it from smoking so I think it could be designed better in a way. I'm now using a piece of tin foil on top of the wood to help the juices drain off easily and keep the smoker doing it's job. If you use any of the tower type of smokers and find that your meat is not smoky enough then first thing I suggest you check if the extra fat or juice from your meat and veggies is not putting off the smoke.
Another thing is that you need to fire the thing up before going to normal cooking mode. I usually turn the thing to 300 degrees and wait for the smoke to start. When it has started to smoke nicely I turn the heat down to whatever my particular recipe needs and put in my meat (and sometimes vegetables).
I use it to cook a lot now – pulled pork, ribs, shoulder, brisket, chicken as well as vegetables – bell peppers, zucchinis, onions. My wife is especially a fan of chicken and vegetables that come out of this thing.
Temperature control of this thing is near flawless. I used my thermometer to check it and it really keeps the right temperature even when the temperature outside fluctuates (at night for example). I've used it in as cold as 20 degrees without any problems. It comes with a gauge that allows you to set temperature from low to high but it doesn't have a built in thermometer so be sure to use a separate digital thermometer at first to check where the right gauge level is on your smoker. Once you have it figured out it will work flawlessly.
Comes with a replaceable heater element but I haven't been able to wreck mine yet.
Needless to say I've become a big fan of the food that comes out of my Smoke Hollow electric smoker and so has my wife and friends. I even got one for my dad last Christmas and he's now using it pretty frequently as well. If you want a decent smoker that doesn't cost a thousand bucks but does the job then this one is the way to go.
Next:
Click here to read what other Smoke Hollow 30162E owners have written about this electric smoker
Buy Smoke Hollow 30162E on Amazon (Price at the time of publishing this post $219.99 $168.58 click here to see current price)
Updated: Jan, 29 2019