Last updated on January 29th, 2019
Improve your tennis game with tennis ball machines but don't buy just any tennis ball machine.
Not all tennis ball machines are the same so you'll want to figure out what are the most important features for you and then pick a machine that suits your needs and is of good quality.
So features are one thing but don't be relying just on the features. Manufacturers are clever adding features that sound good and make them sales but have little or no actual value when it comes to improving your tennis game, which is what actually matters. So beware and don't pick just the first machine. Instead, do your research and pick a tennis ball machine that has good customer reviews from previous buyers, comes from a well-known manufacturer that stands behind their product, offers warranty and a customer service should you need it.
Best Tennis Ball Machines for 2019
Tennis Ball Machine Reviews
What follows are short reviews and pros and cons of each machine. If you know the budget you have and/or the features that are most important to you it's much easier to pick a tennis ball machine that suits your needs.
If you need help choosing, please consider the section "what to consider when buying a tennis ball machine" at the bottom of this article. If you have any questions, please leave a comment below.
Best Tennis Ball Machines Under $1000
These are the machines that don't feature complicated drills and such but are great for beginners who want to practice their technique.
Price: $839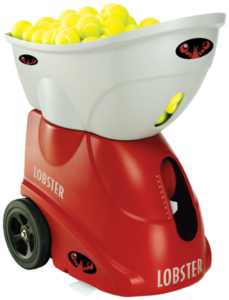 This tennis ball machine is best suited for the beginner. It is the cheapest machine that Lobster Sports offers and it comes with some pretty neat features for its price.
Battery-powered and weighing only 35 pounds, Lobster Elite Freedom is the best portable tennis ball machine for the price (in my experience).
Elite Freedom runs 2-4 hours on a single charge, which is more than enough for my needs. If you want more court time just plug it into a nearby AC/DC output. You'll need an extension cord for that.
It's easy to fit in your car and thanks to the oversized wheels it's easy to move around, even when the ball hopper is loaded fully with 150 balls.
For the price, Elite Freedom has some pretty advanced features:
Full corner-to-corner horizontal oscillation
Large ball capacity of 150 balls
Up to 50-degree elevation to practice your overheads
Speed 20-65 MPH
Great portability (oversized wheels, extendable handle, battery-powered)

It doesn't feature topspin/backspin options and there's no vertical oscillation possibility. Also, there's no remote available for this model.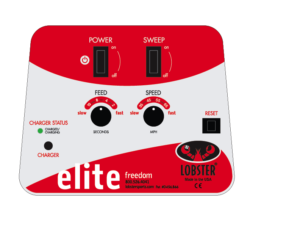 Elite Freedom is a great model if you're just starting out and want to practice your shots and enhance the technique. It doesn't allow for complicated drills or anything like that and it certainly doesn't replace a coach or a good drilling partner.
If you want a tennis ball machine with additional features while keeping the budget under $1000 then take a look at the Lobster Elite Liberty model below.
Price: $949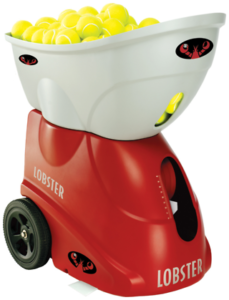 This is another tennis ball machine for under $1000 that I dare to recommend.
With ball speeds up to 70 MPH and heavy topspin and backspin capabilities, Elite Liberty is a suitable machine for a beginner to an intermediate player.
Elite Liberty comes with all the features that Elite Freedom offers and more. Compared to Elite Freedom, this model offers:
More speed. With ball speeds up to 70 MPH, you get faster shots from your opponent.
Spin. Flat, topspin and backspin options. Topspin and underspin options are adjustable from the panel with 4 different strengths. Go from easy to heavy spin.
Optional fast charger. Comes with a basic charger (12-16 hours), but if you want faster charging times then you can get an optional fast charger (4-6 hours).
Optional remote control. Control the feed, spin etc with a special remote or via your smartphone (iPhone and Android apps available).

Elite Liberty comes with just as good of a portability as the Elite Freedom model we looked at previously. The battery will give you 2-4 hours of court time on a single charge and the 35 lbs weight, its wheels and small dimensions make it easy to handle and transport.
Use this machine to practice your shots and technique as well as improve your footwork and overall fitness. It's great when you don't have a drill partner available or just want to take your game up a level.
If you're looking for more speed and features then take a look at the Elite One model below.
Price: $1139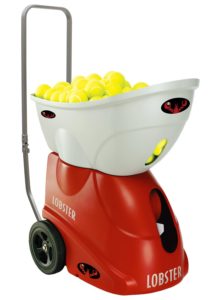 Another portable yet affordable tennis ball machine from Lobster Sports.
Lobster Elite One comes with all the features that Elite Liberty has and more.
Compared to Elite Liberty this model has:
More speed. Speed range of 20 – 80 MPH to improve your reaction time.
More court time. 4-8 hours on a single charge.
It's a bit heavier because of the larger battery. At 42 lbs it's still quite easy to lift and transport.
More elevation and electronic elevation control. Elite One gives you 0-60 degree lobs. Great for practicing your overheads. Unbeatable compared to other machines on the market and you no longer need to manually set the elevation.

Improve your forehand and backhand game by playing against full corner-to-corner random horizontal oscillation. Crank the elevation up to 60 degree lobs to practice your overheads and return the heavy backspin and topspin shots to make your game more versatile.
Elite One tennis ball machine is most suitable for a beginner to intermediate level player who wants to up their game by practicing returning a wide range of shots. The improved speed and random horizontal oscillation will enhance your reaction times for returning both backhand and forehand shots. One area where this machine lacks is that it's missing an option for vertical oscillation.
If you want more oscillation features to further improve your game, then take a look at the Elite Two model below.
Lobster Elite Two
Price: $1419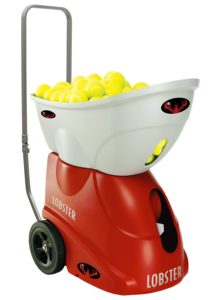 Lobster Elite Two comes equipped with all the features that Elite One has, and with a minimal cost increase, it adds the advanced triple oscillation.
Nearly all machines come with the horizontal oscillation that allows sweeping from left to right. But if you want to improve your reaction times also on short vs deep shots then you need a machine with vertical oscillation capability.

Elite Two adds random vertical oscillation, so you get short shots and deep shots in a random order, taking match play to a whole new level. The horizontal+vertical oscillation allows launching shots randomly all over the court – short, deep, left and right. If total random oscillation is too much, choose the horizontal-only or vertical-only setting.
Elite Two also gives you more action and a better workout.
Features
Oscillation: random horizontal, random vertical
Speed: 20 to 80 mph
Spin: topspin, backspin
Elevation: electronic, 0-60 degrees
Court time: 4-8 hours
I love this machine not only because of the random vertical oscillation but also because of the new handy remote that allows me to control almost all settings from the other side of the court. Use the remote to turn the feed and sweep settings on/off, set the ball speed, elevation, spin (topspin, backspin, and strength of the spin), and change the settings on the go.
Lobster Elite Three
Price: $1669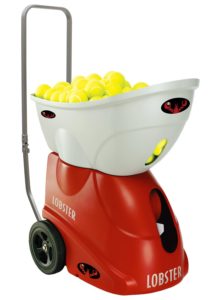 This is a serious tennis ball machine suitable for you if you're already comfortable with simple shots and need a partner capable for some more complicated shots. Don't get me wrong, this machine is also suitable for a beginner, but with the addition of two-line oscillation, Elite Three truly simulates professional match play to enhance your game even further.

In addition to triple oscillation, Elite Three comes equipped with two versatile programs, narrow and wide with variable depth for both forehand and backhand play. This will better your tennis game even faster as it can more closely resemble a real tennis match. In Narrow mode it oscillates in the single-player lines, and in Wide mode in the double lines.

Elite Three weighs 42 lbs and fits 150 balls just like Elite One and Two. With a full hopper, you get a good 15 minutes or practice time. Ball speed is 20-80 MPH and it gives you court time 4-8 hrs. Comes with a battery and a standard charger.
Like all Lobster machines, Elite Three comes with a 2-year warranty and good responsive US customer service.
In my experience, this is the best tennis ball machine if you don't need drills and total random oscillation. If you want something more serious (like drills), then take a look at Lobster's Elite Grand Series.
Price: $1999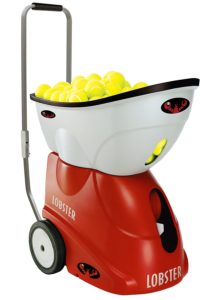 Elite Grand IV comes equipped with six pre-loaded drills to simulate playing against a real opponent. These are six-shot drills that simulate the most common styles of play: the grinder, power baseliner, all-courter, moonballer, slicer and lefty. These drills mix up ball trajectory, speed and spin to challenge and prepare you for the play against advanced players.
Another reason you'll like Grand Four is its fully random oscillation. Set it to fully random oscillation and the balls are launched throughout the entire singles court mixing up ball speed, trajectory, backspin, topspin and oscillation. This actually makes it feel like you're playing against a real opponent. That is just unmatched when comparing to other machines in the industry within any proximity to the price range.

On top of all that, Grand four comes with an advanced 2-line oscillation function with three settings: Narrow, Medium and Wide. That's a great feature for improving your backhand and forehand ground strokes while at the same time improving your footwork dramatically.
Just like all the Elite series machines, Elite Grand Four is battery powered (4-8 hours court time). However, the Grand series machines come with a fast charger out-of-the-box, cutting charging time from 12-16 hours down to 2-3 hours.
Ball speed is up to 80 MPH like usual, elevation adjustment is electronic and 0-60 degrees. Weighs 44 pounds and comes with a 2-year warranty like all Lobster tennis ball machines.
If you are looking for an even more advanced tennis ball machine that allows you to customize your own drills then look at the Grand Five.
Price: $2299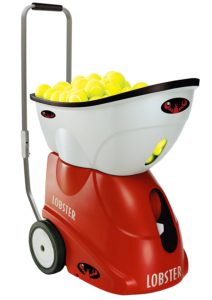 Compared to Elite Grand 4, the Grand 5 tennis ball machines adds 6 more pre-loaded drills to enhance your game even further. The pre-loaded drills are power baseliner, all-courter, grinder, moonballer, slicer, lefty, forehand plus, attack/defend, approach, beginner, intermediate, advanced.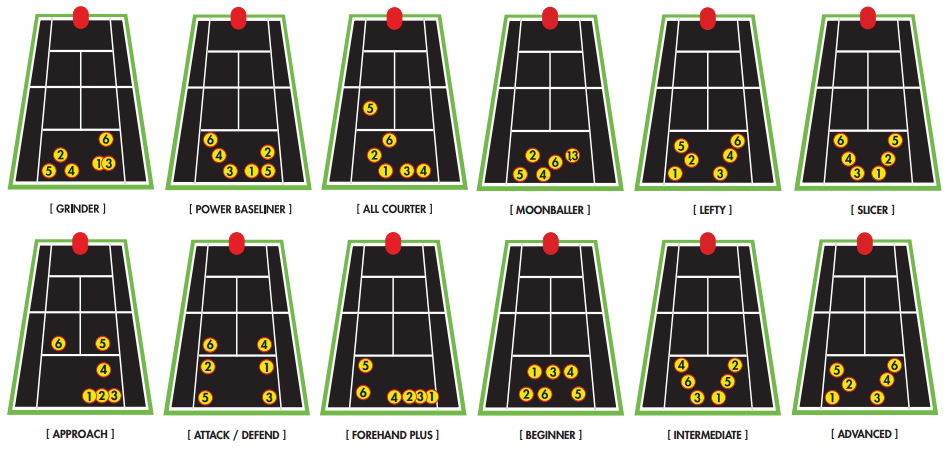 In addition to the 12 pre-loaded drills, Grand 5 also offers 6 Customized drills that you can program yourself and save for use anytime you like. Customizable drills allow for 6 shots each. Pick a court location from one of the six available locations, set ball speed, spin and feed rate for each shot and enjoy the game.
Grand 5 features random horizontal oscillation, random vertical oscillation, and fully random oscillation. With the fully random oscillation, you get a random ball speed, random spin, and random feed rate with every shot making this machine suitable even for the advanced players.
Weighs 44 pounds and comes with a fast charger included.
The wide range of features makes this tennis ball machine suitable for advanced, intermediate and beginning tennis players. If you're just starting out then use the simple shots, horizontal oscillation, and perhaps vertical oscillation separately and choose beginner mode from the pre-loaded drills. Then as you have your shots dialed in and as you advance, you can add random oscillation and take on the more complicated drills.
If you're looking for a tennis ball machine that lets you program more than 6 court locations then take a look at the Grand 5 Limited Edition which allows for 18 programmable court locations.
Price: $2599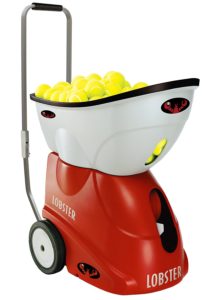 This is the most advanced portable (battery powered) tennis ball machine that you can get.
Elite Grand V LE allows you to program and save 12 custom 6-shot drills. Pick from 18 shot locations, that's more customization than any other machine will provide you with. Then to make your own personalized drill, pick the speed, ball spin, location, and feed rate for each shot and save it. This option alone will dramatically help you enhance your play when preparing even against top tennis players in the world.
Elite Grand V LE also comes equipped with 12 pre-loaded court drills: power baseliner, all-courter, grinder, moonballer, slicer, lefty, forehand plus, attack/defend, approach, beginner, intermediate, and advanced.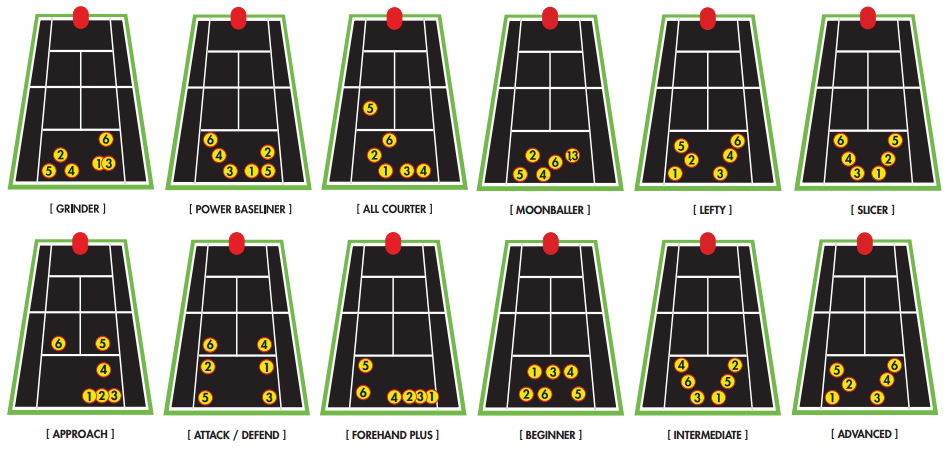 Just like all Elite Grand machines, the limited edition comes with Fully Random Oscillation, a great feature that launches balls at total random, random speed, random spin and random feed rate. Fully random oscillation is great for preparing for any and all shots as you never know what's coming.
Balls speed is 35-80 MPH and the hopper fits 150 balls.
This one weighs 44 pounds and comes with big wheels and a reversible hopper like all Lobster Elite Series machines. The big wheels make it easy to transport on any surface and the reversible hopper makes it easy storing in your car as it really doesn't take up that much space.
Elite Grand V LE gives you 4-8 hours court time on a single charge. Comes with a fast charger included (2-3 hours charging time instead of 12-14 hours).
Price: $3149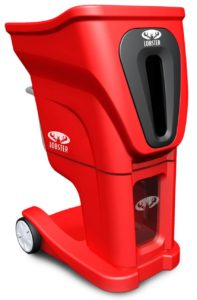 This AC powered tennis ball machine comes with super advanced oscillation capabilities: random horizontal oscillation in 3 different depths (short, mid, deep), random vertical oscillation (left, middle, right), 2-line (narrow, medium, wide), and fully random oscillation (random speed, spin and feed rate). This function alone makes Phenom one of the most advanced tennis ball machines, enabling you to enjoy nearly the same practice as real match play.
Phenom comes with 6 pre-programmed drills. These are the 1) power baseliner, 2) all-courter, 3) grinder, 4) moonballer, 5) slicer, 6) lefty. If you want more drills, take a look at the Phenom Two. For a minimum cost increase, you get 12 pre-loaded drills and 12 custom programmable drills to 18 locations.
This machine weighs much more (99 lbs) than the portable battery powered ones (35-44 lbs) from Elite Series, so take that into account when choosing one for your needs as this one is a bit more tricky to transport in a car.
It also has a larger ball capacity – 250 tennis balls compared to the 150 that the battery-powered machines fit.
Ball speed is about the same or slightly higher, 35-80, sometimes up to 85 mph.
The ball launch is located higher, allowing to simulate real play more accurately.
If you want more pre-programmed drills (12) and customizable drills then take a look at the Phenom Two.
Price: $3595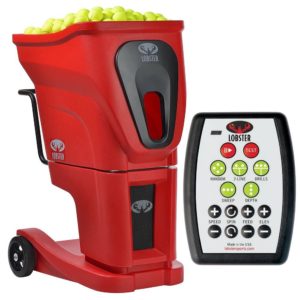 It's a 99 lbs AC powered tennis ball machine with a 250 ball capacity.
Phenom Two tennis ball machine comes with all the amazing features that Phenom has and adds 6 more pre-programmed drills and 12 custom court drills.
The custom programmable court drills allow up to 6 shots for each. Choose from 18 different ball locations, then choose the ball speed, backspin or topspin and feed rate for each shot. The combinations of different shots this machine permits are infinite. So create your own personalized court drills to simulate real match play and train the areas you most need or want, and take your tennis play up another notch.
Once again, I'm going to have to talk about oscillation here. The random oscillation is just what makes the Phenom machines so great, in my opinion. Pick between horizontal and vertical random oscillation, or use the Fully random oscillation with random location, speed, random spin, and random ball launch feed rate. You really can't get any more random than that. It's great for matching real play as well as just for a workout every time you have just an hour of free time available.
This is the most advanced or quite frankly the best tennis ball machine there is available today from Lobster Sports. It's got the most advanced features and until they come up with a better machine, this is the best you can get.
What to consider when buying a tennis ball machine
Power source
Battery or electrical? Battery powered machines allow for a court time of 2-8 hours on a single charge and save you from the hassle of running a cable across the court. However, most battery tennis ball machines also come with the option to plug into AC/DC should the need arise.
Oscillation
Almost all machines sweep randomly left to right, allowing horizontal oscillation. Cheaper machines allow only horizontal oscillation while the more expensive models also allow vertical oscillation giving you short and deep shots at random. Good machines can mix the two for total random oscillation, both left-to-right and up-and-down for an even better workout.
Drills
Some (more expensive) machines come with preloaded drills to enhance your game. Want to practice your forehand or perhaps develop consistency in your game. Pick a drill you want to enhance today and let the machine do its job.
Also, the best tennis ball machines allow programming a custom drill of your own. Pick the location, ball speed, ball spin and feed rate for each shot.
Ball speed
What's the max speed? Smaller battery power tennis ball machines allow up to 65 MPH ball speed, while the bigger battery/electrical ones allow for 80 MPH or even up to 85 MPH of max ball speed.
Ball spin
Does it allow for topspin and backspin?
Ball feed rate
How often will the balls be launched, usually the setting is 2-10 seconds.
Elevation
You want to check the degrees and if you must change the elevation manually or electrically? Some machines allow 0-50 degrees while the others allow 0-60 degrees
Ball capacity
How many tennis balls can you load it up with. Smaller models usually fit 150 balls and bigger ones 250 balls.
Remote control
Remote controls are usually optional and allow you to fully control the machine from a distance via wifi. Some models you can even control via your iPhone app (you still need to buy a wifi receiver for the machine).
Launch height
Bigger machines launch the ball from the same height a real player would normally hit in a game to simulate true play as closely as possible.
Weight
The weight varies from about 35 pounds for smaller machines and up to 99 pounds for the big ones. Weight is usually not an issue when moving the machine around the court since the machines come on large transport wheels and they're easy to move around. It's just something you want to consider if you need to lift it to and from your car. Dimensions are also something you'll want to consider if you need to move it around in a small car.
Warranty
Something you'll most probably not need if you pick a good reliable tennis ball machine from a well-known brand but then again, you'll never know. Even the best manufacturers mess up at times and when they do, it's good to have kept your purchase documents. Warranty is also a good indicator of the quality of the manufacturer. If the manufacturer only offers a 3-month warranty, you'll want to ask yourself why is that? Good companies stand behind their product and offer at least a 1-year warranty on the machine. Battery warranty is usually less and you'll want to check that separately.
All Lobster Sports tennis ball machines, for example, come with a 2-year warranty for the machine itself and a 6-month warranty on battery and wheels and a 1-year warranty on accessories. You can also buy an additional warranty and extend the warranty period for up to 5 years. That's a good option if you're using the machine daily (for rentals for example).
Price
Quite Self-explanatory. Prices range from $800 up to $3,600 depending on all the features listed above.
Would a tennis ball machine improve my game?
A tennis ball machine just by itself does not entirely replace a good coach or a drilling partner. However, there are many advantages to getting a tennis ball machine.
To me, the biggest benefit of owning a tennis ball machine is that when it comes to scheduling my practice I am not dependent on other people. It's a lot of hassle to find a practice time that suits both me and one of my drill partners, especially on a short notice. And before I got the machine I would lose many valuable practice hours because of that. Now, whenever I get an hour or two off, I just fire up the machine and get some practice in.
Of course, you can't rely solely on the ball machine to teach you how to play and it can be a disadvantage if your technique is bad and you just instill the bad habit further. Get a camera or even a phone to record yourself and make sure you book a coach every now and then and also play with other players.
It's hard to find a partner who agrees to feed you balls for 1-2 hours exactly the way you want. So that's another good thing about a ball machine – it does what you tell it to do. You can have a laid back training or really crank up the pace. And they're really consistent playing partners who don't get tired.
While it doesn't simulate the real play, I've found my tennis ball machines has helped me greatly to fill in those gaps when my drilling partners aren't available. It's helped me enhance my technique, my footwork and also just the general fitness.