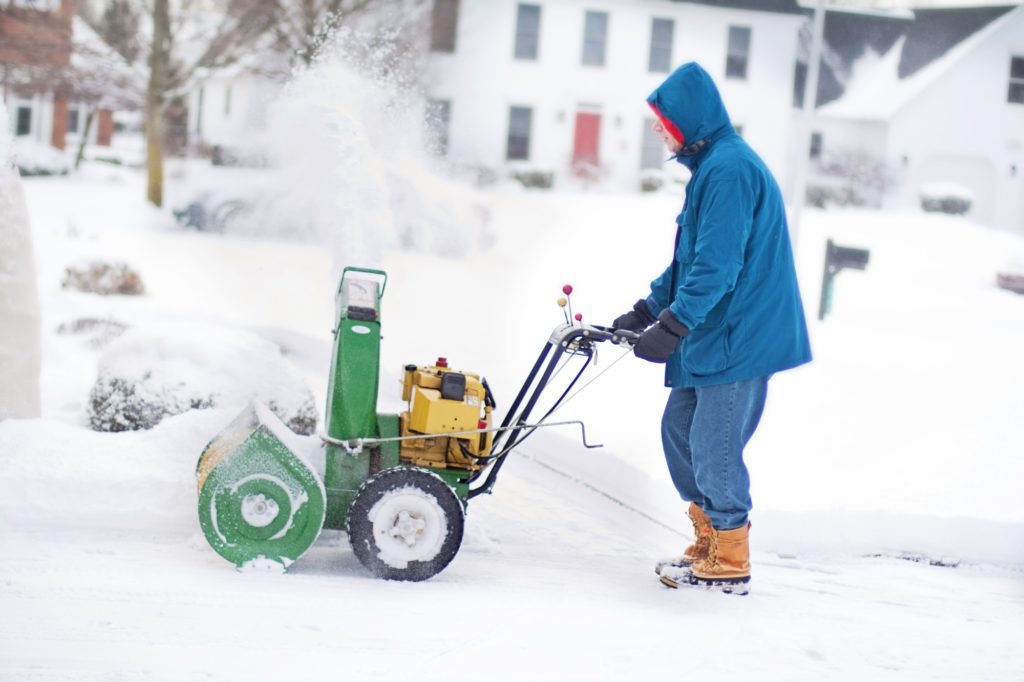 Do your hands ache with blisters during the winter season from all of those long hours spent shoveling snow? It's time to give your shovel and your hands a rest this winter. Make the job much easier by knowing how to buy a snow blower that's right for you!
Using a snow blower to move snow off your driveway and away from your yard is the most efficient way to keep your yard snow-free. Not only does it make the job easier, but it's a lot quicker as well. With your new snow blower, there will be no more rushing to work in the mornings because you had to shovel the snow from behind your car first.
Purchasing a snow blower is one of the best decisions you can make, but before you do so, you need to know how to pick the right one for your needs. Just like when shopping for a new lawnmower, there are several things that you'll need to look for during the shopping process.
Read below for our full guide on how to make the right choice!
Start Looking Early
If you're in need of a snow blower for the upcoming winter months, then you need to start shopping early. By the first of October, stores normally have a full stock on all of their snow blowers. Plus, when shopping early, there's a chance that you might run into a few pre-season deals here and there.
However, once the season's first big snowfall lands down in your neighborhood, all deals are closed out. Stores sell out of their snow blowers quick as well, so if you don't jump on it fast enough, you could be waiting weeks before they restock.
Know the Different Stages
As you're shopping early, you have some time to think about the different stages of snow blowers to choose from. Each option has its own unique features, so it's important to understand the difference and select the one that you need. Here's an explanation.
Single-Stage Snow Blower
A single-stage snow blower is one that has only one high-speed auger, which removes the snow from the ground and sends it out the chute. These snow blowers are ideal for areas that only experience an average snowfall that's no deeper than 6 inches.
It isn't a self-propelled snow blower, and because of this, it's best not to use it if you have a steep driveway.
Two-Stage Snow Blower
A two-stage snow blower is one that has a slow-turning auger. It removes the snow from the ground and sends it into the machine where it's then forced into a high-speed impeller that then sends it out the chute. These snow blowers are ideal for areas that receive 12 inches of snow.
These machines are self-propelled and are able to break down compacted ice and snow much easier than a one-stage snow blower can.
Three-Stage Snow Blower
A three-stage snow blower is one that has a slow-turning auger that then places the picked up snow into the machine as well. However, it does so at a much faster rate than the two-stage snow blower. These snow blowers are ideal for areas that receive 18 inches of snow.
It'll get the job done much quicker than the other snow blowers and will do it with ease.
Know Your Driveway
It's essential that you understand your driveway before making a selection. If your driveway is a small and flat asphalt or concrete driveway, then you should have no problems using a stage-one snow blower. If you have a driveway that's gravel or that's steep, then you'll need to use a stage-two or a stage-three snow blower.
Know Your Snowfall
You also need to take into consideration the type of snowfall that your home receives. The first thing to think about is the amount of snowfall that you normally get. Keep in mind the different amounts of snow that each stage snow blower can handle.
Also, if you are used to getting wet or sticky snow, then you'll need to consider using a two-stage or three-stage machine. A one-stage machine just won't be able to get the job done.
Consider Power Steering
Have you ever been driving your car and have the power steering shut off on you? If so, then you know just how difficult it can be to steer without it. The same goes for when pushing a snow blower.
Power steering is a wonderful option to have when using these machines. Power steering makes doing 180° turns with your machine a breeze!
Other Factors to Consider
Besides your power steering, there are some other factors to consider as well. Having all of the necessary features is a big factor when selecting the right snow blower for you.
Headlights
Does the snow blower you want to purchase have headlights? Headlights are essential when needing to blow the snow early morning or late evening.
Plastic vs Steel
Plastic chutes are better than steel chutes if you can believe it. Steel chutes are at risk of cracking and jamming, so they don't last as long as plastic ones.
Learn How to Buy a Snow Blower Before You Shop
Before you begin shopping for your new snow blower, make sure you know how to buy a snow blower first! Keep these tips listed above in mind as they're going to become your best friends when making your selection. Remember to shop early and select the machine that meets all of your requirements depending on the type of driveway you have, the type of snowfall that you get, and more!
Your last step before making a final decision is to read our guide on the best snow blowers for winter 2020! Does yours make the cut?
If you're tired of shoveling snow or you're simply stocking the garage up with all the latest and greatest tools and you live in a snow prone region, you need to know how to choose a snowblower. Contrary to popular belief, they don't all do the same thing. Some are definitely better than others depending on the amount of snow you have to remove from your landscape.
That's why we've put this handy guide together for you to see a step by step breakdown of what to look for when you start shopping. Keep reading to learn more.
A Handy Guide For How to Choose a Snowblower This Winter
The best snow blowers are not necessarily comparable to the best lawnmowers in terms of machining and functionality. But, it's a good idea to consider how you might consider your next lawnmower purchase when purchasing a snowblower, too.
First, let's take a look at the different types of snowblowers and then we'll discuss a few other things to consider. Finally, we'll talk about some of the attachments you can buy to make the job just a little bit easier.
Types of Snowblowers
There are advantages of each different type of snowblower that match the needs of the terrain and snowfall expected in your region. Some are better for small areas while others are more suitable for large yards and driveways. You may even find yourself looking at multiple snowblowers in order to achieve the best results for the exterior of your home.
Single Stage Gas Snowblowers
Gas snowblowers provide the greatest mobility because there is no power source to be concerned with. They also usually provide for the greatest clearing widths and intake heights compared to electric models.
Single Stage Electric Cordless Snowblowers
A cordless electric snow blower is a bit lighter than a gas-powered blower and more compact making for easy mobility. They feature a push-button start feature which requires relatively no maintenance.
Single Stage Electric Snowblowers
Electric snowblowers are corded which generally requires an extension cord to operate. This feature limits mobility and you'll need the extension cord to be flexible in cold conditions.
Single-stage electric snow blowers require little maintenance and also feature push-button starting.
Two-Stage Snowblowers
Two-stage snowblowers are better for snow depths more than 8-inches. They are more powerful and suited for larger areas. Perhaps, however, the best feature of a two-stage snow blower is the engine-driven wheels which is better for uneven terrain and helps to reduce the amount of man-power necessary to power through that terrain.
The two-stage process involves an auger that collects the snow and an impeller which swiftly discharges the snow. This process moves snow farther and faster than single-stage snow blowers so you can get the yard cleared in a fair amount of time and get back indoors by the warm and cozy fireplace.
Three-Stage Snowblowers
For a gas-powered blower that will not steer you wrong, select a three-stage snowblower. They operate similarly to two-stage models but work quicker and clear more snow.
Things to Consider When Buying a Snowblower
When it comes time to buy a snowblower, you need to know what exactly you'll be using it for. Do you have a lot of hills on your property? What about the amount of snow you wish to remove and what type of snow is it?
Here are some of the most important things to consider when making your decision.
Terrain
If you're clearing level surfaces, you'll definitely want the assistance of an auger powered snowblower. These models are push-propelled which requires a bit of man-power so they're not really suited for hills or slopes. You may need tire-chains for some models to provide traction depending on the conditions.
Type of Snow To Be Removed
If you're just removing the light cover, a single-stage unit will do the trick. However, if you're trying to remove wet, heavy, snow, a two-stage unit will do better but ultimately you'll want a three-stage blower for larger yards and more depth.
Depth of the Snow To Be Removed
Anything over 8 inches will require a two-stage or three-stage blower. You can get away with single-stage blowers for depths of snow less than 8-inches as long as it's not too heavy or compacted.
Covered Areas
Smaller driveways and front porches can be taken care of with a small single-stage unit. If your driveway is over 60-feet long, you'll need a two-stage or three-stage blower to get the job done right.
Choosing Snowblower Attachments
Remember how we mentioned that snow blowers aren't the same as lawnmowers? It's true, but, you can find attachments for certain types of lawnmowers that will allow you to complete the task of removing snow from your yard.
If you don't want to invest in such a large attachment, you can opt for a snow cab that simply attaches to your regular snowblower to help isolate you from the snowfall and cold elements.
Final Thoughts
Now that you know everything there is to know about how to choose a snowblower, you can start preparing for the arrival of winter. And, you better hurry, it's almost here! Forecasters are also reporting that this is expected to be one of the coldest winters on record in recent history so you can be guaranteed that your new snowblower will get plenty of use.
We hope you found this information helpful. Feel free to contact us if you have questions or comments about the best snowblowers to buy or any other products featured on our pages. We will be glad to get you pointed in the right direction.